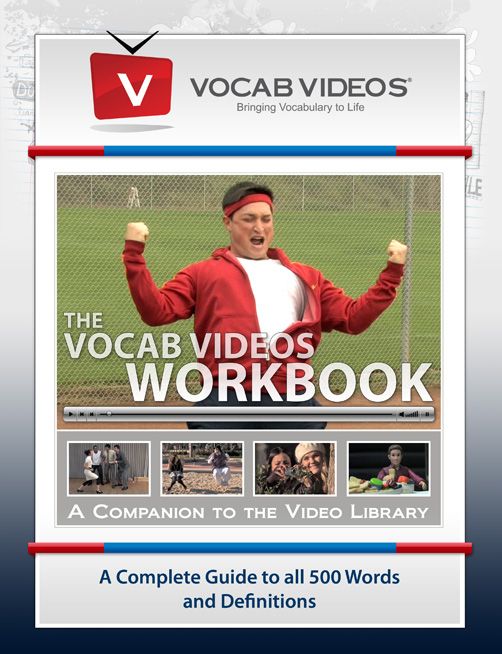 As a part of the TOS review crew we were given a subscription to Vocab Videos.  In theory I love the idea of this program. Learning 500+ vocab words for standardized tests such as the SAT or ACT can be well, monotonous. Vocab Videos makes learning your vocabulary words interesting and fun.
Vocab Videos is presented in a series of several ongoing segments parodied off shows like Lost or The Office. The segments are further broken down in 20 second video clips showcasing 20 vocabulary words. In addition to the videos there are quizzes to test your knowledge of the words, activity sheets, and the opportunity to make digital flashcards of the words for further study.
Marie has been using this program for a few weeks now for vocabulary study. While I enjoy the concept of the program, I should note that this is a secular program and I am not against using secular material in our schooling, I do try to monitor what we bring into our house and learning. Overall, I  love the concept and fantastic idea of Vocab Videos, I just wish that it was presented a little differently, or maybe with an option of a Christian version. My daughter did not "get" some of the satirical humor presented and at times she was left with a blank look after the video. If you can get past this, then I definitely think you should check out the free 30 day Educator review and see what you think for yourself. Because what did not quite "work" for our family may be just the thing you need in our own family, so give it a look.
Normally a small Vocab Videos educator pricing for up to 20 students runs $79.99 a year and include all of the following features:
Teacher Dashboard to monitor student progress
Individual student accounts
Access to all videos and study materials
Digital Quizzes, Multi-media Flashcard Maker, Digital Worksheets

Larger packages are available on the website if needed. Individual student subscriptions are available for 6 or 12 months and cost $24.99 and $39.99 respectively and include all of the following features:
Access to the entire video library of 500 Vocab Videos
Total access to an extensive suite of study resources and tools: digital quizzes, digital worksheets, multimedia flashcard maker, downloadable crossword puzzles

Be sure to click on the link below to see what my fellow Crewmates thought of Vocab Videos.

Company/Product ~ Vocab Videos
Price ~ small educator rate $79.99 for a year, individual student subscriptions available in 6 month ($24.99) or 12 month ($39.99) plans.
Ages ~ 10th grade and up

DISCLAIMER: I received a subscription to This Week in History from A Thomas Jefferson Education, in exchange for a thorough and honest review. Though I am compensated with free products, I am not compensated in the form of cash for my reviews. The opinions I have given are mine and may differ from others but are not influenced by the company or the free product provided.