Christian Liberty Press has been around in the homeschooling community offering high quality products for quite some time. We have been blessed to use one of there products in the past and today I am going to tell you about a book we had the chance to review called, Mr. Pipes and the British Hymn Maker .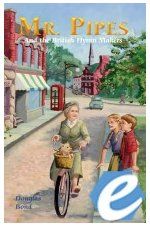 For this review we received an eBook copy of Mr. Pipes and the British Hymn Maker written by Douglas Bond. In this story we follow the journey of two American teens, Drew and Annie Willis, who "while on vacation in England, are befriended by an elderly English gentlemen called Mr. Pipes. Through this relationship they learn about famous British hymn writers. They also learn about the value of traditional worship and praise".(from website) Each chapter of the book features one famous British hymn writer into the children's larger story.
The eBook copy retails for $8.79 while the printed version costs $9.89. The suggested age range for this book is 7th-10th grades, however, I used this as a read aloud for the family with no problems.  Other available titles include:
Mr. Pipes and the British Hymn Makers
Mr. Pipes and Psalms and Hymns of the Reformation
Mr. Pipes Comes to America  each priced at $9.89
The Accidental Voyage priced at $9.99.
Or the complete set of four books may be purchased for $38.99  * I should note that not all of the titles are available in eBook format, but they are all available as printed copies.
We especially enjoyed this first book in the series and look forward to adding the other titles to our collection. The storyline was easy to read and follow and it was interesting too! I personally would love to have an audio book version of this series. It would be great to have the music come alive and tie in with the story, but we had no problem searching the web to find hymnals either. I especially liked that each chapter included a page or two of sheet music to go along with the hymn.  We have a budding pianist so these will come in handy down the road.
Click on the banner and see what my Crewmates thought of this story below.

Company ~ Christian Liberty Press
Product ~ Mr. Pipes and the British Hymn Maker
Price ~ $8.79 eBook, $9.89 printed
Ages ~ suggested age 7th-10th, but could be read as a read aloud

DISCLAIMER: I received an eBook copy of Mr. Pipes and the British Hymn Maker from Christian Liberty Press, in exchange for a thorough and honest review. Though I am compensated with free products, I am not compensated in the form of cash for my reviews. The opinions I have given are mine and may differ from others but are not influenced by the company or the free product provided.