Is your family really into History?  Well, today I am going to share with you my thoughts on A Thomas Jefferson Education. Are you familiar with this idea/company? If not, let me tell you a little bit about it.
A Thomas Jefferson Education is based on the principle by which some of the greatest people in history were educated. TJ Ed seeks to help, you the parent, to experience the joy of helping your child to discover, develop, and polish his/her inner genius.
TJEd gives you the "how" and the "why" to make the "what" more powerful, more memorable, more relevant to your children.                          ~from website
A Thomas Jefferson Education encourages parents to apply the 7 keys of Teaching for a successful educational journey:
Classics, Not Textbooks
Mentors, Not Professors
Inspire, Not Require
Structure Time, Not Content
Simplicity, Not Complexity
Quality, Not Conformity
You, Not Them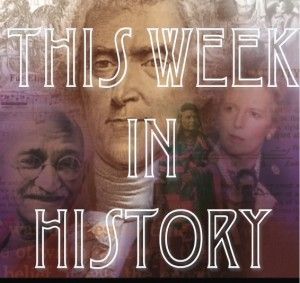 We received a subscription to This Week in History which delivers a unit study each week to your email. Each weekly email focuses on the major events or people from each week in history, complete with pictures, links, and pertinent videos to help you educate your child. Click here for a sample week.
This Week in History is a subscription based and costs just $9.95 a month.  With This Week in History, each day's resources become an adventure in math, science, language skills, geography, current events, and the arts. The beauty is that all this information is tied to events in history. A great plus is that all of the content is searchable by date, topic or by key word, and is accessible at any time for subscribers.
We have been really enjoying this resource over the summer and as we head back to school next week I will continue to dig a little bit deeper into the topics as they correlate with our studies. The level of detail in the emails and the information presented is amazing and really helps me be able to pick and choose what we want to cover. I would definitely recommend This Week in History to anyone. Check out what my Crewmates thought by clicking on the banner below.

Company ~ A Thomas Jefferson Education

Product ~ This Week in History

Price ~ $9.95 a month
Ages ~ K and up
DISCLAIMER: I received a subscription to This Week in History from A Thomas Jefferson Education, in exchange for a thorough and honest review. Though I am compensated with free products, I am not compensated in the form of cash for my reviews. The opinions I have given are mine and may differ from others but are not influenced by the company or the free product provided.