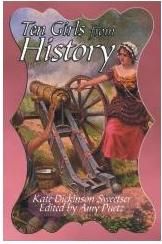 Well, hello there! I have been on a mini blogging break because we have been enjoying the company of our Grandma and cousin, but today I wanted to share with you a fantastic eBook that we were able to review called, Ten Girls From History by Amy Puetz (pronounced Pitts). Amy  is a homeschool graduate who has an enduring love of history. She enjoys retelling the stories of people who had an impact on their generation.  Se founded her company Golden Prairie Press,and has been sharing her passion of history for a few years now. She also publishes a bimonthly e-Zine for ladies of all ages, called Heroines of the Past.
Prepare to befriend ten of the bravest girls of history! Whether facing a band of Indians with Madeleine; or saving lives at sea with Ida Lewis; or experiencing the battlefields of the Civil War with Clara Barton, you will be inspired by their faith, courage, and devotion.
Girls of all ages will enjoy meeting these ten remarkable girls from the past, and parents will appreciate the godly examples found in these pages. Both inspirational and entertaining, this book will bring history alive for your family.
Each chapter dramatizes the life and accomplishments of these ten girls:

Louisa May Alcott: Author of Little Women
Clara Barton: The Angel of the Battlefield
Molly Pitcher: The Brave Gunner of the Battle of Monmouth
Cofachiqui: An Indian Princess
Madeleine De Vercheres: The Heroine of Castle Dangerous
Dorothy Quincy: A Girl of the American Revolution
Ida Lewis: The Heroine of Lime Rock Lighthouse
Elizabeth Van Lew: The Girl who Risked all for the Union
Virginia Reed: Midnight Heroine of the Plains
Clara Morris: The Girl who Won Fame as an Actress

~ from the website
Our Thoughts:
Okay, I admit it, I had only heard of one of the ten girls listed above, Lousia May Alcott. I remember reading Little Women as a teen so it was nice to get an inside look at her life as a precursor to reading Little Women aloud to the girls. I especially liked how the book included a glossary, timeline, and pictures! It really helped to tie everything together visually. I really enjoyed this book and it is very inspiring to show my young daughters that you do not have to wait until you are grown up to make a difference in this world. 
My first aim in bringing the lives of these ten girls from history to the attention of the girls of today has been to inspire them to like deeds of patriotism and courage. Second only to that purpose is a desire to make young Americans realize as they read these true stories of achievement along such widely varying lines of work,
that history is more thrilling than fiction, and that if they will turn from these short sketches to the longer biographies from which the facts of these stories have been taken, they will find interesting and absorbing reading.
May the book accomplish its twofold object, and so justify its publication at this time of the testing of all true Americans.
Kate Dickinson Sweetser
August 1, 1917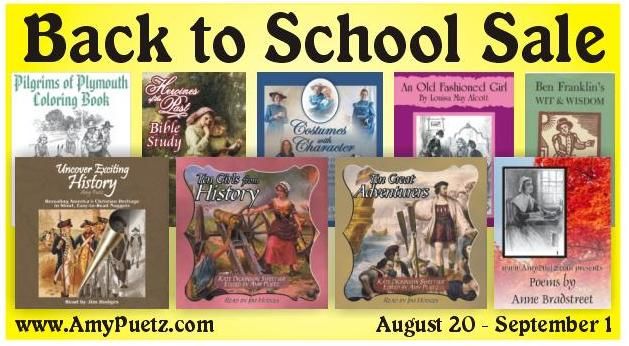 WOW, isn't that awesome! You really should check out this book, I can not stress that enough. It was really great book and we recommend this wholeheartedly! Check out what my Crewmates thought about this book and the three other books reviewed by clicking the banner below.

Company ~ Golden Prairie Press
Product ~ Ten Girls From History
Price ~ $25 Printed and MP3 Audio Book $15 eBook
Ages ~ school age and up

DISCLAIMER: I received an eBook copy of Ten Girls from History from Golden Prairie Press, in exchange for a thorough and honest review. Though I am compensated with free products, I am not compensated in the form of cash for my reviews. The opinions I have given are mine and may differ from others but are not influenced by the company or the free product provided.