I was recently given the opportunity to review a DVD, Understanding Child Brain Development from the Family Hope Center located in Pennsylvania.
Every parent wants what is best for their child in every aspect of life. With over 90 years of expertise in the area of adolescent brain development Family Hope Center has been there for families who have suffered from traumatic brain injuries, mild autism, ADHD or any other symptoms/conditions that affect the brain. Family Hope Center is there to provide hope and support to all.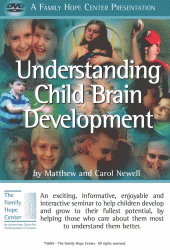 The authors of this DVD, Matthew and Carol Newell, specialize in the childhood brain and have provided this DVD to help parents. As the clinical director of the program, Matthew Newell the explains the neurology of the brain and its extraordinary means to heal itself.
The Newell's believe that the parent knows more about his or her own child than the experts and believe that by treating the brain and not the symptoms of the so called trauma / disorders that we can heal and overcome many childhood issues such as ADHD, Autism, certain traumas, reading disabilities and more. Along with three medical doctors the Newell's take a holistic approach to treatment including nutrition, clean water (hydration) and through prayer we can work smarter and not harder at overcoming.
This DVD is approximately 2 hours long and because of the amount of information presented I chose to break it down into segments to watch. The information presented is fascinating and helps me to understand more about my children's brains and their growth and development. It is amazing the numerous things that can be traced back to crawling in infancy. I especially liked how they stressed how to help your child overcome a certain diagnosis and not just the diagnosis and symptoms.
To order the DVD, please call 610-397-1737 or you can order Understanding Child Brain Development from IEW for just $19.00. Be sure to check out what my Crewmates thought of this DVD by clicking the banner below.

Company ~ Family Hope Center
Product ~ Understanding Child Brain Development
Price ~ 19.00
Ages ~ parents