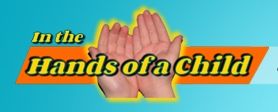 Every once in a while it always fun to break off and do some fun hands on type of learning. Since my girls both love hands-on projects and science, it was a perfect fit for us to be selected to review In the Hands of a Child lapbook It's All Matter.
In the Hands of a Child is the premier lapbooking company started back in 2002 by two homeschooling mothers, Kimm Bellotto and Niki McNeil. Today with the help of their 3rd partner, Katie, they each bring unique qualities and talents to the business under one goal -- to provide quality lapbooking materials for all educators. Whether you are a home educator or a classroom teacher, they are striving to put quality materials in the hands of children to get them laughing and learning together. From preschool to High School there desire is to assist all educators of children in all ages and skill levels with the use of just one type of product, a lapbook.
We were lucky enough to receive the It's All Matter ($10.) Lapbook for this review. Geared towards the middle school crowd, 5th-8th graders this high-interest curriculum will help you know everything you could possibly want to know about matter. With easy to follow directions you will receive:
5 day planning guide

reading list pertaining to the subject

vocabulary words

16 hands-on activities

12 page research guide

answer keys

complete instructions for assembly of the lapbook
I was able to use this product with Madison over the last few weeks. She's into science and this lapbook just fueled her more to keep gaining knowledge. The lapbook was laid out nicely and it was very easy to give her the instructions and turn her loose. Since finishing this lapbook she has discovered the whole section of Astronomy lapbooks on the site. She is really into Astronomy right now we plan on purchasing more of the lapbooks for her to complete over the course of this school year. With the price as low as it is, how could I not!
We definitely recommend you checking out the over 450 lapbook products available from In the Hands of a Child. There is definitely something for everyone on this site to dive into. Be sure to check out what my fellow Crewmates thought of the many different lapbooks reviewed by clicking the banner below.
Company ~ In the Hands of a Child
Product ~ It's All Matter
Price ~ $10.00, currently on sale for $5.00
Ages ~ 5th-8th graders