My girls are huge arts&craft fans. So much so that I can not keep up with their creativity at times. When the review from Gryphon House opened up I chose to pick  The Homegrown Preschooler: Teaching Your Kids in the Places They Live book offered because I was able to pick up Global Art: Activities, Projects, and Inventions from Around the World at our homeschool convention used book sale for $5.00! Let me tell you a little more about this amazing art book.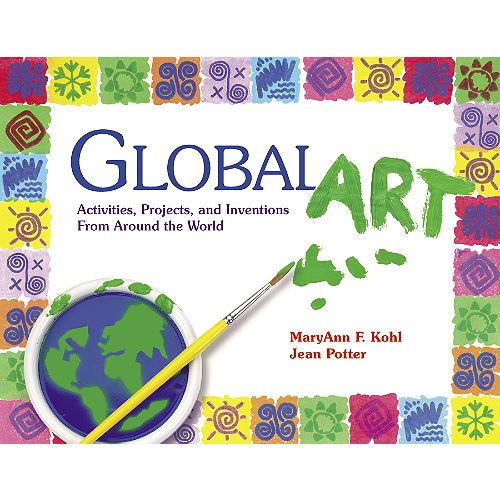 Global Art was written by MaryAnn F. Khol and Jean Potter and includes over 135 art projects from all over the world for just $16.95. The recommended age is for children PreK – 5th grade.
Global Art makes geography, culture, and history real for children through direct, concrete experience. ~ back cover
With 190 pages this paperback book is filled with art projects from all over the world. Divided into 7 sections and representing projects from all 7 continents there are lots of easy to do art projects with detailed, step-by-step instructions to choose from. 
There is truly something for everyone in this great resource book.  Enhance learning with projects such as:
~ Mud painting
~Tet Trung Thu Lantern
~ Tin Lid Sculptures
~Double Roller Painting
~ Face painting
~ Sprayed Shamrock Stencils
Information on the Country, geography, culture and people is included for each project. Also each art project includes special key codes to let you know a little bit about the project before starting. Such as:
~ Experience level – 1-3 stars for difficulty level
~ Preparation needed -
1. all the items at home.

2. common art supplies needed.

3. familiar items needed but will need to do some extra planning or purchase.
~ Technique used – collage, painting, drawing, printing, sculpting or sculpting.
~ Caution – adult assistance is needed.
This is an excellent resource book to have on hand. There is something for everyone to enhance or add to your history or geography studies. I really liked the layout of the book with one project on each page. Plus the directions are very clear. My older girls can pull the book off the shelf and complete a project independently. I give this book 2 thumbs up and wholeheartedly recommend you checking it out too. Be sure to check out my review on The Homeschool Preschooler by clicking the link.
Be sure to see what my Crewmates thought of this book and the other book offered in this review, The Homegrown Preschooler: Teaching Your Kids in the Places They Live, by clicking the banner below.

Company ~ Gryphon House
Product ~ Global Art: Activities, Projects, and Inventions from Around the World
Price ~ $26.95
Ages ~ PreK – 5th
Format ~ paperback book