While my 3 oldest girls have had the opportunity to attend a brick & mortar preschool, my younger two have not. Both Montana & McKenzie have had all of their formal learning at home. Even though this is my 5th and hopefully not my last time, through preschool I am always looking for new ideas to keep it exciting and fun. I was really excited when we were chosen to review The Homegrown Preschooler: Teaching Your Kids in the Places They Live from Gryphon House.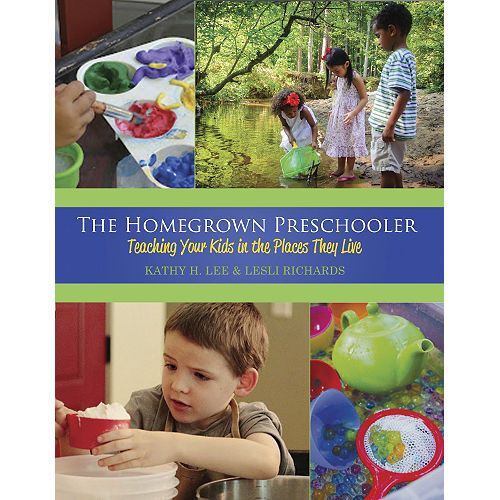 The Homegrown Preschooler: Teaching Your Kids in the Places They Live was written by early childhood experts and homeschool veterans Kathy H. Lee & Lesli M. Richards. The Homegrown Preschooler is a jam-packed 204 page paperback book filled with big photos for your preschooler. With 200+ tried and true easy activities, recipes, organizational tips, charts & check lists this book is sure to please.
Imagination is more important than knowledge. Knowledge is limited. Imagination encircles the world.

~ Albert Einstein, physicist
The book is divided into 2 sections. The first half, 9 chapters, includes the following chapters:
Chapter 1: Homeschooling – Harvesting a Bountiful Life
Chapter 2: Learning Through Play
Chapter 3: Sowing the seeds – Preschool Learning
Chapter 4: Setting the Stage
Chapter 5: Home Life = Learning – Slow Down and Teach
Chapter 6: Who Has Time For This?
Chapter 7: Organizing It All
Chapter 8: Days and Seasons That Don't Fit in the Box
Chapter 9: Special Circumstances
Several educational theories including Montessori, Charlotte Mason, etc. are presented throughout the book. The 9 chapters above reminded me of things that I already knew and did with my older girls. I appreciated the reminder as I want to do with McKenzie before she leaves the Preschool stage.
Tell me and I will forget.

Show me and I will remember.

Involve me and I will

understand.

~ Chinese Proverb
The second half of the book includes tons of hands-on activities to do with your Preschooler. The activities include activities on home life, math, large & fine motor skills, reading, science and art. There are also recipes for paint, clay, and playdough. Sure you can find these recipes online, but I like that it is handy and all in one reference book.
We have had a great time going through this
book. McKenzie and Montana have been doing most of the activities, but sometimes we rope in the big sisters. I have been trying to incorporate 1-2 of the projects weekly to keep McKenzie busy and learning.
I loved that this book feels like Pinterest in a book.The Lt. is going to make McKenzie a Plexiglass Easel when he is on leave next month. I think I am more excited than her
Even if you only have one Preschooler left at home I definitely recommend you picking up a copy of this book and using it as a reference.
Be sure to check out what my fellow Crewmates thought of this book along with the other book being reviewed, Global Art: Activities, Projects, and Inventions from Around the World, by clicking the banner below.

Company ~ Gryphon House
Product ~ The Homegrown Preschooler: Teaching Your Kids in the Places They Live
Price ~ $29.95
Ages ~ 2 years old and up