Today I am so glad to be able share with you another great Bible resource from Notgrass Company called Draw to Learn.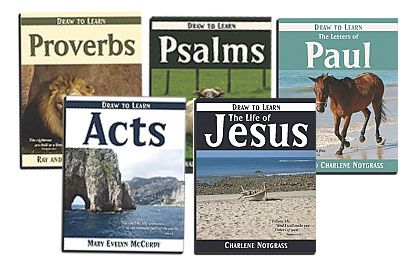 Draw to Learn is an awesome Bible & Art curriculum developed by Ray & Charlene Notgrass back in 1999. The Notgrass family are probably most well known for their award winning History curriculum, but I am here to tell you they have so much more to offer!
Draw to Learn is 30 cohesive units of five study lessons through either the Draw to Learn Psalms, Draw to Learn Proverbs, Draw to Learn Acts, Draw to Learn the Letters of Paul, or Draw to Learn the Life of Jesus. For just $14.95 each of these consumable books provides a full-year study. With just the 150 lessons in this Bible / Art workbook provides greater flexibility in learning throughout the year.
Designed for students of all ages this is the perfect solution if you are looking for a hands-on Bible program. With 3 simple steps to the program:
Read ~ Think ~ Draw
1. Read the Bible passage and think about what it means to you.
2. Follow the instructions listed at the bottom of the page and think about what you read and how it applies to what you will draw.
3. Draw your picture filling the full frame of the page.
One of the best features of this program is that you do not need to run out and buy any fancy art supplies. All you need is:
the curriculum
a pencil
quality colored pencils or crayons. *They recommend Prismacolor colored pencils and so do I, they are worth the price. I only bring ours out for use with this curriculum and special arts & crafts.
reference materials when needed
Because these books can be saved for years to come as keepsakes Notgrass recommends a few suggestions when drawing the pictures.
work diligently ~ spend time on your drawing and take your time. It is estimated that you should aim to spend at least 45 minutes on each picture.
sketch first ~ if you are doing a complicated drawing be sure to sketch it out or have a game plan so that you do not have to make so many eraser marks. Be sure to go back over your drawing and darken your lines before adding color.
fill the frame ~ use the whole frame canvas that is provided and maximize the space.
a picture or model ~ use a model or picture from an encyclopedia, magazine, or another reference. Or use live models when available.
draw people ~ no matter how good you draw take ownership in your people. Even if they are just stick figures like mine
use color ~ the majority of your drawings should be in color. Use a quality crayon or colored pencil with thick lead for blending.
protect the drawing surface ~ protect the following pages in you sketchbook from impression lines. It is best to put a heavy piece of cardstock between the pages.
It's just that simple! Your children are sure to be asking to complete more than one page a day.
For this review we were graciously given a PDF Ebook file for each of the five Draw to Learn books available and a physical copy of the Draw to Learn Proverbs workbook. We have been using this curriculum over the last six weeks during our Morning Time Recitations. While during the summer it has been sporadic now that school has started back up we are in full force. We are able to do one lesson each day, spending a good 30-45 minutes letting the girls complete their lesson while I read aloud.
I really appreciate the fact that Notgrass sent me the PDF file along with the physical book. Most of the time I prefer PDF's because I have children at varying ages and it is easy to print out worksheets without having to worry about the binding of the book. At the end of the school year I plan on having each of the girls books bound for a keepsake. PDF files are available for purchase and delivered right to your email box for just $9.95 each.
I just love this quote from the inside cover of the catalog.
You are doing something important. You are sharing knowledge and wisdom and life with your children. This journey is amazing and exciting and sometimes scary and overwhelming. We are proud of you. To us you are heroes and heroines. We believe in you, and we believe that you can do this. Why are we so confident? Because we believe in God who daily provides everything we need to do what He asks us to do. You are on a wonderful adventure. Don't forget to enjoy the ride!                   ~ Ray and Charlene Notgrass
I love that! In fact I have typed it up and put it on my bathroom mirror for that little reminder when things get sticky throughout the year. I wholeheartedly recommend you checking out this curriculum and seeing if it works for your family like it has for ours. Be sure to check out what my Crewmates thought of this curriculum and the other product being offered, America the Beautiful Curriculum Package by clicking the banner below.

Company ~ Notgrass Company
Product ~ Draw to Learn Proverbs
Price ~ $14.95 physical book or $9.95 Ebook
Ages ~ all ages
Format ~ physical workbook or PDF digital download