The younger girls really love to play on the computer. Sometimes it is hard to find good quality educational games they can play, not so with Samson's Classroom.
If you have not heard of Samson's Classroom you should definitely head on over to their site.
Samson's Classroom
is a new online "umbrella" approach to educational learning games. Meaning you automatically get access to any product in the umbrella after purchasing  any product they offer. What's even better is that once a new product is released and/or any current product is upgraded you get immediate access to those benefits! Currently there are three games within the Samson's Classroom: Sight Words with Samson, Spelling with Samson, and Reading with Samson. Let me tell you a little about all three because with this program your child will not only be playing good quality games but they will also be learning at the same time, a total win-win!
Sight Words with Samson was created for your beginner readers to help them to master the 224 most commonly used words in our English language. By building  a strong foundation with sight words, new readers are encouraged to reach for the stars and become successful readers by utilizing a 5-step process to learn the most common words.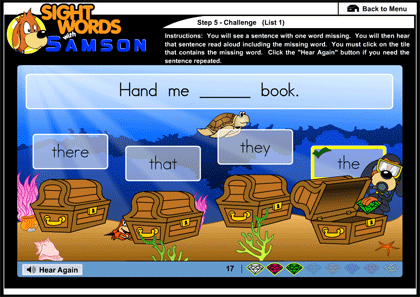 Sight Words with Samson is an absolute must for all beginning readers. Give students the necessary foundation they need to become successful readers.
                                                                                        ~ from website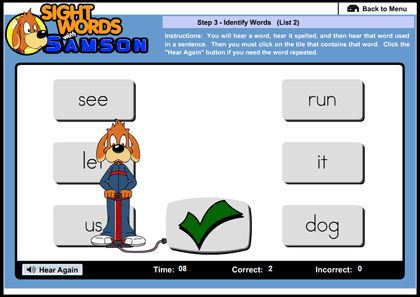 The 5-step process exposes the child to hearing and seeing the word visually and also learning how the letters to spell the words line up through fun games. These games  include learning how to complete a sentence, spell a word, identify the word, or take a short quiz. Within the resource center is a scoreboard that helps the parent and student keep track of progress. Also included within the resource center are additional worksheets and even flashcards for further review. Once your child has completed a level the parent can print out a certificate and present it to your child.
Spelling with Samson is similar to Sight Words with Samson as it also uses a multi-step process to instill confidence in your child's ability to spell.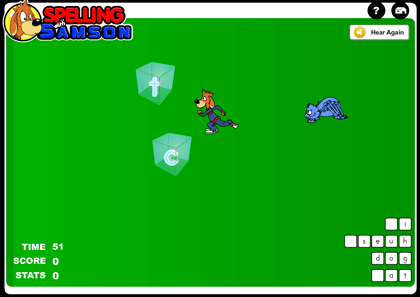 With more than 5,000 words and counting, Spelling with Samson is the most comprehensive spelling product on the market.

~ from website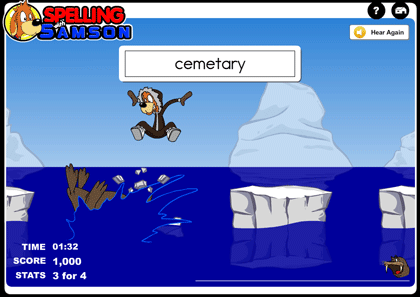 Using a variety of games and drills Spelling with Samson is a comprehensive program with more than 5000 words to test your child's knowledge. One of the best parts is that you can customize the spelling list to line up with words you are using in your curriculum for the week. With attention grabbing games your child will be asking to play over and over again.
Reading with Samson offers a combination of reading comprehension and logical analysis. Your student will learn to draw out clues from what they have read to help answer comprehension questions.
…a cutting edge software product that helps students analyze reading material and learn how to draw conclusions and answer questions based on that material.

                                                                                ~ from website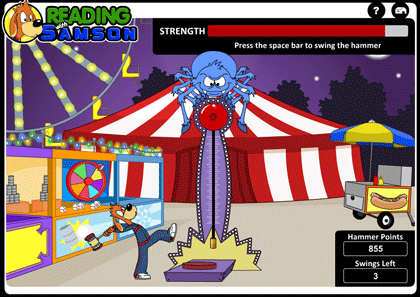 A variety of questions include those on context, cause and effect, discovering the main idea, and sequencing. Reading with Samson includes a new patented user instant feedback system. If a student answers incorrectly,the passage where the information is contained be highlighted and the child will be allowed a second chance at answering correctly.

Samson's Classroom is perfect for students in grades K-5 and will get your child on the road to being a strong successful reader. So,you're probably thinking all that I described above will cost you an arm and a leg, right? Well, NO! There are numerous pricing options available ranging from large/small schools to home accounts. A home user account for one user costs just $30 a year ($2.50 a month). There is also a family account which retails for $50 ($4.16 a month) a year for up to 4 users.
We are down to one computer for the girls to use since their desktop went kaput a few weeks ago, so we have used this program on the laptop. There are not a whole lot of online programs out there that I normally let the girls use. But, we had a great time using this  terrific program with Mikayla and Montana as a supplement. Once school work was done the girls were able to log on and play learn. Montana is our beginner reader and she has made great strides with learning her sight words and reading. Her favorite part was using her hammer points and taking a swing. Mikayla has taken advantage of Samson spelling and reading and it has definitely showed, especially in her spelling.
Overall, we have enjoyed using Samson's Classroom and I can see us continuing to use the program for the rest of our year subscription even though our review period is over. Be sure to try Samson's Classroom out for yourself by playing demo versions of the games. Also, be sure to click the banner below and see what the rest of my Crewmates thought of this program.

Company / Product ~ Samson's Classroom
Price ~ $30 home account (1 user); $50 family account (up to 4 users)
Ages ~ grades K-5

 DISCLAIMER: I received a family account 1-year subscription to Samson's Classroom, in exchange for a thorough and honest review. Though I am compensated with free products, I am not compensated in the form of cash for my reviews. The opinions I have given are mine and may differ from others but are not influenced by the company or the free product provided.