Have you ever wanted to know a thing or two about salt? Well, if so I have the perfect unit study for you. It comes from a company called Box of .D.E.As (Ideally Dynamic Enrichment Activities). A Box of I.D.E.As. contains ten or more modules that provide supplemental learning on a given subject chosen. or provide an interesting journey into usual topics.
Box of IDEAs is a company dedicated to creating delightful interactive learning modules centered around random subject areas. Explorers will be irresistibly drawn into critical thinking & knowledge building activities through an amazing variety of fun topics. ~ website
BOX of I.D.E.As are recommended for children aged 9-16 and each modules within your topic contain fun and quick activities that allow your student to dig a little deeper into the subject matter.
Currently there are 6 BOX of I.D.E.As kits available including:
~ Pigs
~ World War Two
~ Salt
~ Eleven
~ Quilting
~ Laundry
With the following topics coming out soon:
*  Mystery, WWII Kitchen, WWII Pearl Harbor, WWII Innovations, Olives, Pines, and Cemeteries.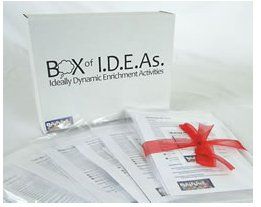 We received a PDF version of Salt which retails for $49.00. Physical boxes retail for $79.00. Extra modules for your extra students can also be ordered for $4.00. I primarily used this with Madison and Mikayla and we where given a "comprehensive look at salt and how it has helped to shape history, nourish our bodies and even build and destroy empires". This BOX covers the history, geography, and science, plus  more all about salt.
The modules included topics on:
The History Of Salt
The Science Of Salt
The Salt March
The Geography of Salt
Need for Salt
Preserving with Salt
The Wall that Salt built
Where Salt Lives
The Languages of Salt
The files were very large and included a lot of great information within the PDF version but that was not a big deal for me. I printed out each section at a time when it was needed and stored in a 3-ring binder. Overall, we have enjoyed learning so much about Salt. Who knew there was that much information about the tiny little grains. We especially enjoyed the Preserving with Salt module as it lined up perfectly with our study of Pharaohs and Egypt. We give this product 2 thumbs up for its thoroughness and the way the information is presented.  I would love to try another BOX of I.D.E.As in the future, and the girls have suggested the Mystery  or Pig BOX. Be sure to check out what my Crewmates thought of this Salt BOX and the World War Two : Pearl Harbor BOX that was also reviewed by clicking the banner below.

Company ~ BOX of I.D.E.As
Product ~ Salt
Price ~ PDF version retails for $49.00 and a physical BOX version retails for $79.00
Ages ~ 9-16

DISCLAIMER: I received the PDF version of Salt from BOX of I.D.E.As, in exchange for a thorough and honest review. Though I am compensated with free products, I am not compensated in the form of cash for my reviews. The opinions I have given are mine and may differ from others but are not influenced by the company or the free product provided.