I have sensitive skin and because of that I only wear eye makeup on a daily basis. Wearing foundation and blush does not sit too well with me. So imagine my surprise when a review for a mineral based make up was offered to us. I jumped at the chance to be on the list and was pleased as punch when I was selected to review Beeyoutiful Skin mineral make up package.
Beeyoutiful Skin is 100% all natural, gluten free mineral makeup. For this review, I received 1 foundation in Brianna, 1 foundation brush, 2 sample eye colors, plum sky and raspberry shimmer(to be used as lip color), 1 combo brush, and a how-to DVD, which is extremely helpful in learning to apply the make up.
Prices:
Foundation – $25 for 3.95 g
Eye Color – $10 for .55 g
Foundation Brush – $11
Combo Brush – $6.50

Samples – $1 each
*a little goes a long way for mineral makeup.
Even with the debacle with my mailman I was super pleased right from the start with the way the makeup felt on my face but the way it made me feel. It is light and breathable. I applied the foundation by mixing it with my daily moisturizer and then buffing a little bit of the powder onto my face. While I did not wear the plum sky eye color daily it gave me the added pop when I was feeling snazzy. Plus at the end of the day I still had makeup on and no irritation to my skin, a huge plus in my book.
Everyone deserves to look and feel beautiful and Beeyoutiful Skin Makeup can help you do that! I am very pleased with the products we have received and have recommended it to people I know. Beeyoutiful also offers a full line of natural skin care items, essential oils, vitamin supplements and more. Be sure to check out the other products reviewed by my Crewmates by clicking the banner below.

Company ~ Beeyoutiful
Product ~ Beeyoutiful Skin Mineral Makeup, eye color (2), foundation and combo brush.
Prices ~  see above for pricing breakdown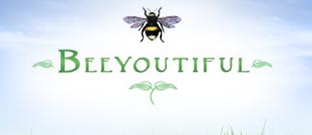 DISCLAIMER: I received 1 foundation, 1 foundation brush, 2 sample eye colors, 1 combo brush, and a how-to DVD from Beeyoutiful, in exchange for a thorough and honest review. Though I am compensated with free products, I am not compensated in the form of cash for my reviews. The opinions I have given are mine and may differ from others but are not influenced by the company or the free product provided