Marie is a Sophomore this year and I realize she has just a few short years at home until college and her young adult years. Have we done enough up to this point? Have we modeled that she is to faithfully walk with Him even in the hardest of times? If there is one thing that I want to teach the girls in their journey called life is, to love and to serve God. The Lt. and I strive to provide a stable beginning and we make it a priority to attend church and to study the Bible everyday in our schooling. To help us in the Bible curriculum department we were privileged to receive a new Bible program from a company called Recon. Let me tell you a little more about it.
RECON is a comprehensive Christian worldview curriculum targeted for Junior (11th) and Senior (12th) grade students (it is possible to use this curriculum with Sophomore (10th) grade students), or college students and adults. There are many struggles and spiritual battles that our children will face as they go out into the world and this Bible curriculum was created to help guide them with the Holy Scripture.
 Recon's mission is to help high school Juniors and Seniors become effective witnesses and disciples for the Lord as they go out into college campuses.
For this review we received the teachers guide ($21.95) and the Recon student workbook ($12.99). The Teacher's guide is over 400 pages in a soft, coil bound text that includes everything you need to adequately teach the lessons.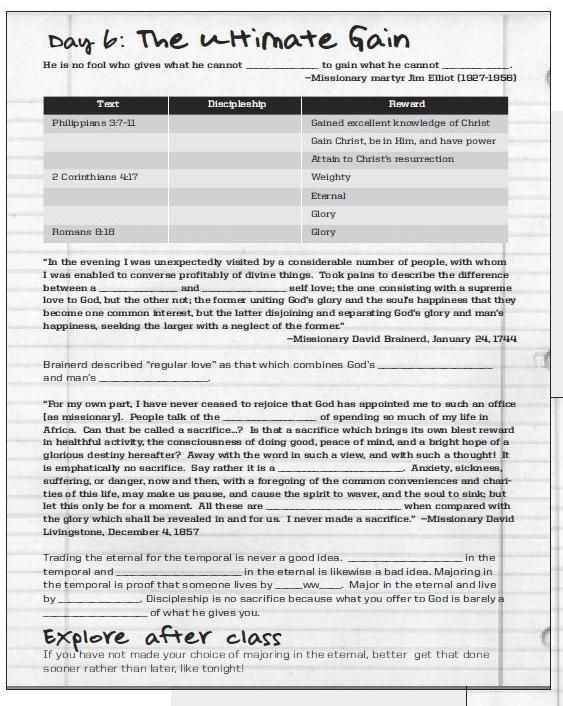 Directions for each segment of each class and other resources are provided at the end of the manual.
Lessons are presented in outline form with  gray-toned highlights that indicate what is in the Student Workbook.
All charts, graphs and illustrations are provided.
Reduced copies of the Student Workbook pages.
Bold words indicating what students need to fill in blanks.
The curriculum is comprised of 72 lessons using the KJV for verse selections. (We used the NIV version with no problem). The "Boot Camp" portion starts on Day 10. It is recommended by the author to use the program at least 4 days a week, with 2 days being the bare minimum. If lessons are done 4 days a week then the program will take 18 weeks, or one semester to complete.
Although Recon is designed for use in Christian Schools it is easily adapted for home schools and co-op settings. We initially started using this program 4 days a week but soon found that it was really intense and dropped to the bare minimum of 2 days a week. We have enjoyed the curriculum but I find it is truly geared towards the child who will be leaving for college soon or approaching adulthood.  It is very thorough but I feel we would get more out of it when Marie is a bit older. Do not let that stop you from checking it out even if you have a 10th grader. Every child is different and your child may be ready for this program. Please be sure to check out what my Crewmates thought of Recon by clicking the banner below.

Company / Product ~ Recon Bible Curriculum
Price ~ $200.00 Curriculum licenses and PDF sold HERE and here on Lulu 
Ages ~ High school Juniors and Seniors and up
Recon is the first application of a generational model for college ministry conceived and developed by Bill Perry. Bill is Chief of Staff and Director of Training Materials for InterFACE Ministries and a homeschooling dad of 7. RECON is a solid Christian worldview Bible curriculum which will equip older students for the challenges they will face on the college campus.

                                                                                   ~from website

DISCLAIMER: I received the teachers guide and student workbook from RECON, in exchange for a thorough and honest review. Though I am compensated with free products, I am not compensated in the form of cash for my reviews. The opinions I have given are mine and may differ from others but are not influenced by the company or the free product provided.