UnLock Math
.
Over the last six weeks Mikayla and I have had the opportunity to use the
UnLock Algebra 1
program from UnLock Math. UnLock Math is an online math program that has been around for a few years. It was developed from the teaching passion of Alesia Blackwood, a former homeschooler, who knew from an early age that she wanted to become a teacher. She accomplished her goal in 2000 to teach Mathematics to grades 7-12th.
UnLock Algebra 1 is recommended for any child who is ready for traditional Algebra 1 program. I elected to start Mikayla in this level because it includes an extensive 19 sub-level review of Pre-Algebra skills in Unit 0 before diving into Algebra 1. I felt like she needed the review and I am glad this portion is built into the program.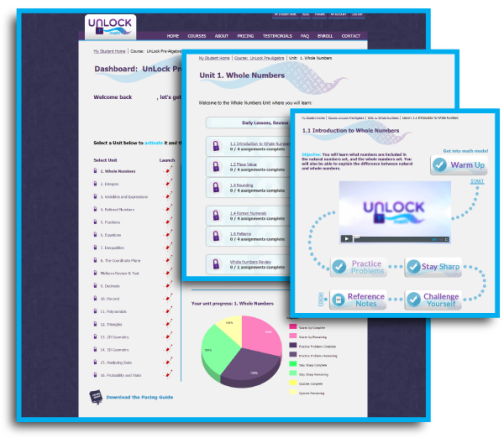 The complete program includes 12 units that have anywhere between 9-15 sub-levels each. The Topics covered in this math program include:
Unit 0 ~ Pre-Algebra Review
Unit 1 ~ Equations
Unit 2 ~ Linear Functions
Unit 3 ~ Inequalities & Absolute Value Functions
Unit 4 ~ Exponential Functions
Unit 5 ~ Polynomials
Unit 6 ~ Quadratic Functions
Unit 7 ~ Rational Functions
Unit 8 ~ Radical Functions
Unit 9 ~ Transformations
Unit 10 ~ Systems of Equations & Inequalities
Unit 11 ~ Trigonometry
Unit 12 ~ Probability
By breaking up the math lessons into fun, interesting bite-size chunks students are able to understand the concepts being taught. In turn the student builds confidence without feeling any anxiety that typically comes with math. With UnLock Math's unique teaching style your students will engage in:
~ Teaching Videos that engage, explain, and entertain. Alesia teaches each lesson as she would to a class, explaining the concepts thoroughly and going through several examples. You won't find any dry, boring lessons here!
~ Advanced Assessment with various question types that truly assess your child's understanding of concepts.
~ Your Child Will Only See ONE Question at a time. Perfect for students who get overwhelmed and/or anxious when they see a whole page of "math".
~ Immediate Feedback & Fully Explained Solutions for each question presented.
~ Unlimited Practice to really master the new skills.
~ Unlimited Review
~ Grade book & Progress Reports real-time reports so that you and your child can track progress and assignment details.
Getting started with this math curriculum is really easy! Once you go through the sign up process, your child will log in to their personalized Dashboard. From there you, the parent, can see the progress at a glance and choose the next lesson to be completed. A helpful pacing guide is included on the Dashboard that breaks down how many days it takes to complete a Unit and the course as a whole. I printed this out and placed it in my teacher's binder/planner. When we are scheduling daily lessons it's easy to grab and see where we are.
To start a Unit you need to "launch" it from the home screen. Just click on the rocket and it will take you to the lesson screen. Once there you will see the options available and any quizzes and/or tests for that Unit. Once you complete a sub-section the lock will be unlocked.
Each lesson follows a similar pattern of:
warm up ~ five problems to review what you already know
video instruction ~ Alesia lectures straight to the student in easy to follow lessons. They are short and to the point without a lot of fluff. You can see a sample for free here
practice problems ~ problems are delivered one at a time without any distracting backgrounds
stay sharp ~ review problems (you can practice these more than once if your child is having problems)
challenge yourself ~ a single challenging problem and
PDF reference notes ~ these are printable not that can be printed and stored in your math binder for easy reference
Once you have completed a lesson you can access the gradebook and see detailed information on how your child did on the lesson.
Overall, Mikayla has really enjoyed using this program. She likes that the lessons are short and easy to complete. This is not a supplemental math curriculum, it can stand alone as a solid program. However, we have been using it as a supplemental program to our math curriculum because it works better for my child in this manner. I have Mikayla take her laptop to the gym and do lesson in UnLock Math during her school hours at the gym. Mikayla excels at math, so she does not mind doing the extra work because typically it helps her with her lesson at home.
I have found these lessons to be a breath of fresh air!
In our homeschool we require math to be done daily. I love that she can do her UnLock lessons at the gym and then when she comes home she can do her regular math lesson for the day. We follow this format because this ensures that we get math done, either online or at home, or both.
I am excited to see the new additional features that will make UnLock Math even better including easier navigation of the site, weekly progress reports, and updated dashbaords for students and parents just to name a few. I also love that a Pre-Calculus and Calculus courses are in the works! Because our method works, I am excited to purchase those programs when we get to those levels in a few years. Math doesn't have to stress you or your child out. UnLock Math provides a refreshing new way to learn math that reduces anxiety for you and your child!
Be sure to check out what my CrewMates think of the Algebra 1 course or the other courses,
Pre-Algebra
,
Algebra 2
, and
Geometry
, that were reviewed.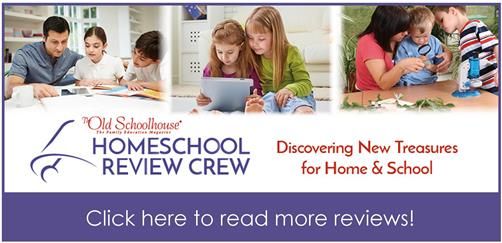 Format ~ online homeschool math
Ages ~ When ready for Algebra level work
Social Media Links:
~ Facebook @UnLockMath ~
Twitter @UnLockMath ~
Pinterest @UnLockMath

©2008 - 2017 A Stable Beginning. All rights reserved. All photographs, text, artwork, and other content may not be reproduced or transmitted in any form without the written permission of the author.

This fall my third child, Mikayla, will be entering high school. I am not quite certain how she grew up so quickly, but nonetheless she is ready to enter the realm of higher level math. Now, math can be one of those subjects that makes you tremble with fear or giddy with joy at the thought of teaching it to your child. I fall in between the two camps; but I really must tell you that math doesn't have to be hard and you can teach your child upper level math with a little help from