I am on my second of six rounds of teaching high school in our little homeschool with my third daughter quickly approaching the high school ranks. I must admit that High school writing can be overwhelming at times especially when the student is not a natural writer. Because my current 10th grader is in the midst of preparing for the SAT , ACT, and college applications I was super excited to receive
High School Essay Intensive
from
Institute for Excellence in Writing
.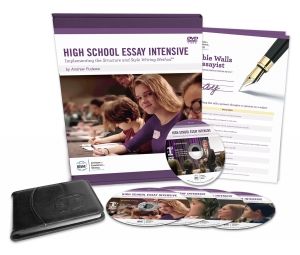 If you have been on the homeschool scene for any length of time I am sure you have heard of Mr. Pudewa and the company, Institute for Excellence in Writing (IEW). His mission is to teach children "…to write well, think clearly, and express themselves eloquently and persuasively." Yep, that's what I am aiming for with my students We recieved the second edition of the High School Essay Intensive and comes complete with DVD seminars and printable handouts. It is the perfect companion for getting high school students, grades 9-12, to be comfortable, confident writers.
The intensive includes the following items:
5 DVDs
Student Handouts
Portable Walls for the Essayist Folder
DVD seminars cover:
Part 1A – General Strategies for Essay Writing: Length and Structure Initial Exercise A Hurt and Rescue Operation What is an essay? Two Questions Writers Need to Ask Translating Assignment Length to Paragraphs Types of Paragraph The TRIAC Paragraph Model Essay Models
Part 1B – General Strategies for Essay Writing: Invention and Style Canons of Rhetoric Invention Practicing Common Topics of Invention Practice with TRIAC Outline Sentence Patterns Literary Devices: Schemes and Tropes Practice with Sentence Openers and Figures of Speech
Part 2 – Understanding and Preparing for the New ACT Essay ACT General Guidelines The Assignment Strategies for Planning Strategies for Writing Strategies for Proofing
Part 3 – Understanding and Preparing for the Redesigned SAT Essay General Guidelines The Assignment Annotating Handy Annotation System Annotating Practice Strategies for Planning Strategies for Writing Using Effective Vocabulary Strategies for Proofing
Part 4 – Strategies for the Personal Essay General Guidelines Sample Essay Prompts Strategies for Planning: Pop out from the Crowd Strategies for Writing, Editing, and Proofreading A Not-So-Secret Secret Final Practice Concluding Comments Last Bits of Advice for Life
Teaching writing can either strike fear into you or make you giddy. I have been hovering between the two camps for the last few months as I was planning for next school year. You see, I have a reluctant writer. One who dreads putting pen to paper and avoids it at all costs. We have dabbled with many writing programs before, but none just quite fit.. We have been working slowly through the first part and i am starting to see that she is getting it. I only intended for her to complete the first two parts of the program for right now, and to come back to the SAT/ACT portions in a few years. Being able to guide her through this intensive with a gentle and slow approach has worked well and I am pleased with her progress as a rising 9th grader!
Using this set with my 10th grader has been a breeze! You see she is a confident, accomplished writer. With her we spent the majority of of time in the section on preparing and understanding the new ACT and the Personal Essay as she is set to take her first shot at the ACT in June. The course was the right amount of teaching and guidance for her. I am confident that with the techniques she learned using this intensive she will knock the Essay portion of the ACT out of the park.
Be sure to check out what my CrewMates thought of this program by clicking the banner below.