Now that we are at the end of the school year I like to take sort of an audit of our homeschool year. Even though I am considered a veteran homeschooler, I was blessed to work through Homeschool Rescue from Only Passionate Curiosity
Homeschool Rescue is an online resource created by Heather Aliano. Whether you are deep in the trenches of homeschooling littles or charting your way through the high school years or some combination of both, Homeschool Rescue will help you when you feel like you are drowning or overwhelmed by the task of educating your children. Homeschool Rescue will be there to hold your hand through the good times and bad times of homeschooling.
Homeschool Rescue is a great online service that lets you take a good hard look at yourself and your homeschool. With 60 days of online e-course lessons you will be able to get your homeschool back on track. Within the program there are 5 modules that touch on topics such as time management, curriculum planning, and troubleshooting what's not working in your homeschool.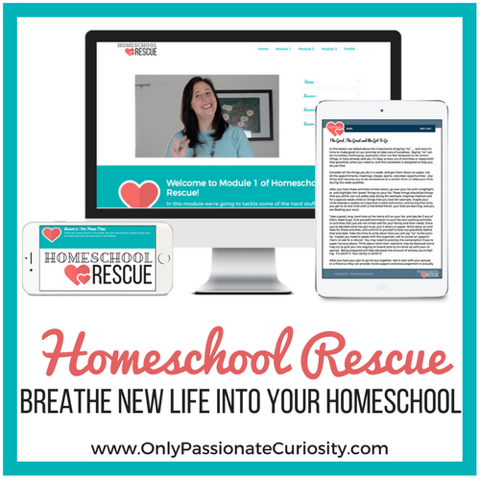 Because Heather knows you are a busy homeschool mom, she designed the lessons to be short and sweet without missing the important stuff. The videos range between 10-35 minutes. And just to make sure you are really getting the material there are simple homework portions for each lesson. Don't worry, it's nothing too taxing, just letting you dig a little deeper into the topic. I had no trouble playing the lessons on my laptop and loved that I could take it with me.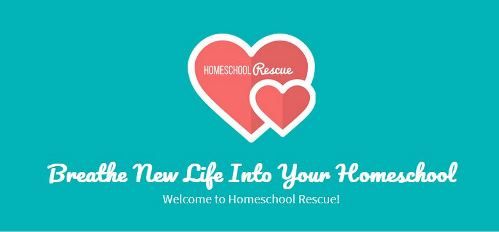 There are two pricing options for the course including:
Option 1- $97.00 Homeschool Rescue eCourse: includes lifetime access to eCourse, all videos, bonus course content, private Facebook page, and "live" course content from June-July 2017.
Option 2 a $137.09 Homeschool Rescue VIP Support: includes everything in option 1 and 3 one-on-one personal coaching sessions with Heather.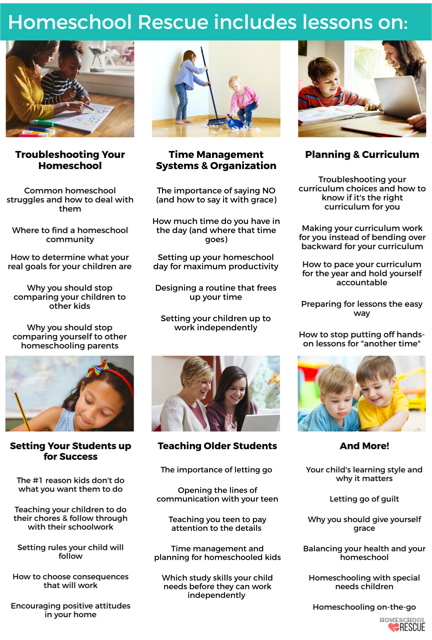 My favorite part of the self-paced course was the 60 day schedule all planned out for me! This made it easier for me to see what I needed to work on and when. The schedule keeps track of the modules and lessons. And if you're like me and enjoy checking things off your list, there is a little check box on the planner. It's the little things that make me happy 😁
For this review I was blessed to receive full lifetime access to the course. This includes access to all the modules and the private FBI group. Even though I am a veteran homeschool mom, I still have struggles in some areas and I am glad I have this encourage to shore up my weak areas. This course really made me take a good look at our homeschool and I have been making changes already to how I do things.
I highly recommend this eCourse!
Even though I am a veteran home school mom, I was blessed to work through
Homeschool Rescue
from
Only Passionate Curiosity
.
If you need a Homeschool Rescue this is the course you need to utilize and get back on track. The program is well worth your time and the cost is worth every penny spent to get everyone happy, healthy, and learning each and every day. Be sure to check out what my CrewMates thought of this program by clicking the banner below and read what they have to say.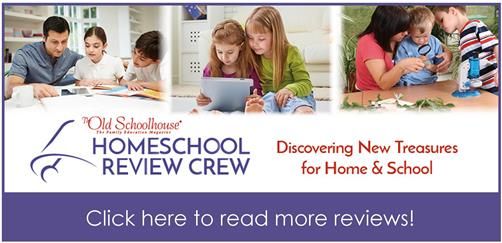 Format ~ online eCourse
Price ~ Option 1- $97.00 Homeschool Rescue eCourse OR
Option 2 - $137.09 Homeschool Rescue VIP Support
Ages ~ for Moms (or Dads) homeschooling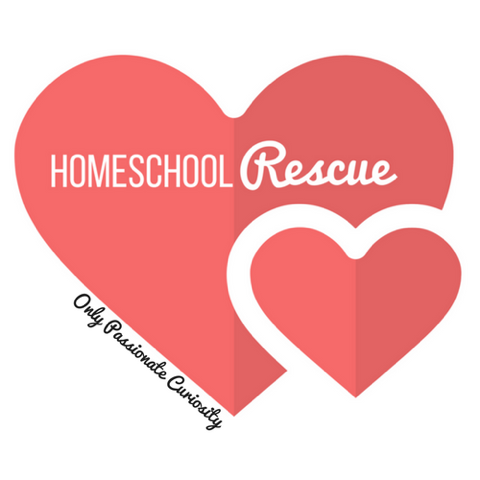 #hsreviews #homeschoolrescue

©2008 - 2017 A Stable Beginning. All rights reserved. All photographs, text, artwork, and other content may not be reproduced or transmitted in any form without the written permission of the author.