Captain Absolutely
from
Focus on the Family
and my girls devoured it the minute it hit the mailbox!
Captain Absolutely is written by Wooten Z. Bassett and illustrated by Dennis Edwards and is actually a spinoff of the ever popular Adventures in Odyssey series. Written in comic book style with 105 colorful, action filled pages of Christian Adventure. This book took 5 years to finish and was written and illustrated 2 pages at a time for Focus on the Family's Clubhouse Magazine.
Captain Absolutely tells the story of Josiah King, a mild-mannered librarian who is transformed into a superhero. This happens when a computer explosion occurs at the library and Josiah runs for cover in a room full of Bibles. As he delves into the Word of God for the first time a mysterious radioactive fume covers him and transforms him into a superhero, Captain Absolutely. Now that Josiah is transformed he must stand up to battle the forces of evil and his arch nemesis, Dr. Relative, all the while defending God's truth.
Does this sound exciting? I know my 10 year old 4th grader, Montana, was super excited to be on this review. She anxiously checked the mailbox each day for it to arrive and when it did she read the whole book in one day! Then she passed it on to my 14 year old daughter who read it over the course of a few days because of her training schedule. Even my 7 and 2 year olds "read" the book together looking at the pictures and decoding the story.
Montana actually read the story several times since we have had it at our house. She loves it as we are huge fans of the Adventures in Odyssey series it is molded after. Here are Montana's words about the book:
"I really liked this book! It is an easy read but has a lot of information in it. Captain Absolutely is a great character and I like the comic book style. I think anyone, even girls who like Adventures in Odyssey will enjoy this book too, I know I did!"
There you have it, straight from Montana's mouth. Be sure to click the link and get your own copy of this graphic novel for just $9.99. You won't be disappointed! Be sure to click the banner below to see what my 69 other CrewMates thought of this book.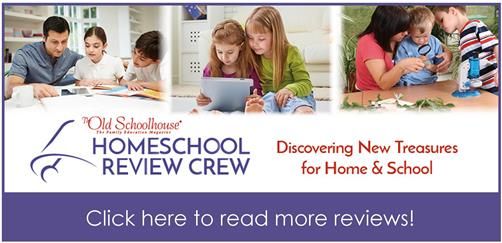 Format ~ paperback graphic novel, ISBN 9781589978522

• Facebook: https://www.facebook.com/AIOFanPage/ Tag: @AIOFanPage • Twitter: https://twitter.com/FocusFamily Tag:@FocusFamily • Pinterest: https://au.pinterest.com/focusfamily/ Tag: @focusfamily/ • Instagram: https://www.instagram.com/focusonthefamily/ Tag: @focusonthefamily • Google+: https://plus.google.com/+focusonthefamily • YouTube: https://www.youtube.com/user/FocusOnTheFamilyUSA







Today I have a great book review to share with you. Over the last six weeks we have had the opportunity to read the new book called