Starting in 7th grade I like to incorporate current events into my girls schedule. This year that includes Madison. I was having trouble finding a good source to use so you can bet I jumped for joy when we were asked to review Top Story from God's World News. Using the resources published by God's World News is a great way to make sure your student, whether young or old is aware of what's going on in the World. The best part is that all the news is from a Christian worldview.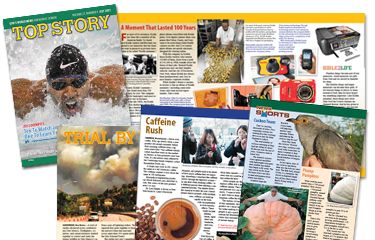 We were blessed to receive a full year subscription ($28.00) to the Top Story edition of the magazine. Full year subscriptions include 10 big, full-color, monthly issues every month except December & May. Each magazine includes 32 pages filled with age-appropriate news and features. Also included in your subscription are helpful biographies and topical lessons that can be downloaded and printed. You are also given the option to quiz your student to check for comprehension. And as a bonus the answer keys are included.
Top Story is the middle school level of God's World News packages, designed to help teach a biblical worldview. Consistent with all of our publications, Top Story emphasizes News, Knowledge, and Wisdom… website
With our subscription we also received a Map-It world map which is a full-sized (20x30) map sent with the September edition. Different sites are presented in the magazine that you then locate on the Map-It map. It is a great reference point and also comes in handy for other subjects in our homeschool.
A weekly email newsletter  that includes answer keys to the magazine quizzes and puzzles is provided to parents and/or teachers.  Your subscription also grants you access to a student website at teen.wng.org.
Madison has really enjoyed this magazine and so have I. I love the fact that is written from a Christian perspective. It has been a great springboard for conversations about what is going on in the world and how it fits into Gods plan. The articles in the magazines are through enough for her to get the gist of what is going on in the world without all the unnecessary gory details she might encounter from a regular publication.
I was also surprised to receive a copy of World. This is Gods World News's magazine for adults. I was engrossed in reading this magazine and read it in one night while waiting for Mikayla to finish practice. I love the Christian perspective once again about stories happening around the world. The articles contain many stories of interest and relevance to my family. Plus, I had a few parents inquire about what I was reading. I took the time to share and hopefully encouraged them enough to further examine the magazine for their children and themselves.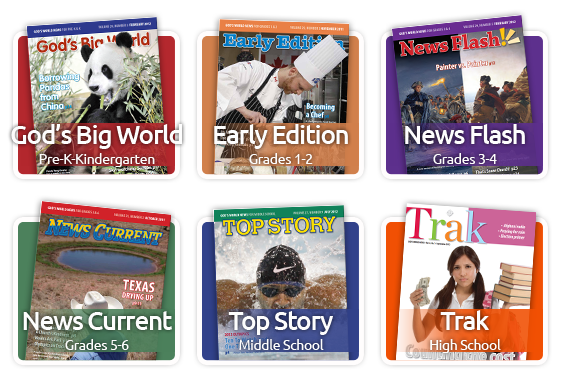 Overall, I am 200% happy and thrilled with this magazine and what it offers for my family. So much so that I am getting subscriptions started for each of my girls. What child doesn't like getting mail? I wholeheartedly recommend you check out all of the magazines levels available from God's World News. There is something available for each learning level and you will be blessed by the fact your children are getting good quality news from a source you can trust. Be sure to check out what my Crewmates thought of this level, Top Story, and the other levels that were offered for review by clicking the banner below.

Company ~ God's World News
Product ~ Top Story
Price ~ $28.00 full year
Ages ~ middle school, 6th-8th