We love good books in this house so you can imagine that I did not turn down the chance to review Diary of a Real Payne Book 1: True Story from Barbour Publishing. Written by Annie Tipton the story tells the diary / narrative of 10 year old Emma Jean Payne, EJ for short.
Diary of a Real Payne is the first book in this series and tells the story of a fun and precocious protagonist EJ. From the beginning we are introduced to her family. Her father the pastor, her mother a teacher and her 5 year old brother, Isaac a Kindergartener. As you follow along with EJ on some of her misunderstood misadventures you will be smiling and laughing hysterically.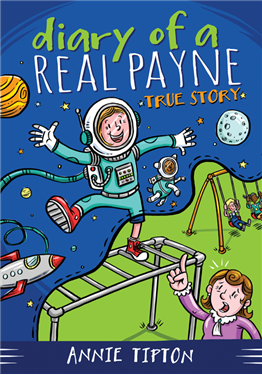 EJ has big dreams of leaving her drab little town of Spooner, Wisconsin. However, the only thing going for her right now is small- small town school, small town shopping, and small town tourist attractions. While her body may physically be living in small town Spooner her imagination takes her to dreamy places like racing cars, a Spectacular Circus, or even owning her own Super Stylz Hair Salon. The reader gets a first hand look into the wild imagination of this spunky little girl.
With 192 pages Diary of a Real Payne is recommended for ages 8-12. I chose to use this book as a read aloud for the girls. While Montana (7) and McKenzie (4) are below the recommended age they still enjoyed listening and laughing about EJ's daily hijinks. McKenzie wanted to see all the pictures throughout the book. Madison(12) and Mikayla (10) really enjoyed the book. I can definitely she a bit of EJ's personality in Madison and her thirst for adventure.  Because my reading voice only last so long I often found them reading ahead.
This book is extremely affordable at just $5.99 for a paperback edition from Barbour Publishing. I highly recommend you get your hands on this book! It would make a great stocking stuffer or gift for the readers on your list. The next book in the series is scheduled to be released in the Spring of 2014. You can be sure that we will be adding that book our home library too! Be sure to also check out what my CrewMates thought of this book by clicking the banner below.


Company ~ Barbour Publishing

Product ~ Diary of a Real Payne Book 1: True Story

Price ~ $5.99 paperback

Ages ~ 8-12 year olds