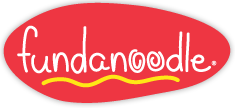 I love it when I get to use review products with McKenzie (4). She is such a willing participant and eager to learn. The last 6 weeks we have had the opportunity to use I Can Do Math Level 2 and Max & Alphie's Adventures Level 2 from Fundanoodle.
Fundanoodle is a new educational brand from the Carolina Pad company. Fundanoodle seeks to develop and improve the skills needed for handwriting in a fun and educational way. Kids get to have fun while learning!
Currently there are 15 color-coded modules that help with the following skills:
fine and gross motor coordination
enhance eye-hand coordination
encourage touch and visual exploration
Promote self-esteem, problem-solving, and discovery
We were blessed to receive two products from the Blue family group to help McKenzie (4) with her math and fine motor skills.
I Can Do Math Level 2 is a 41 page spiral bound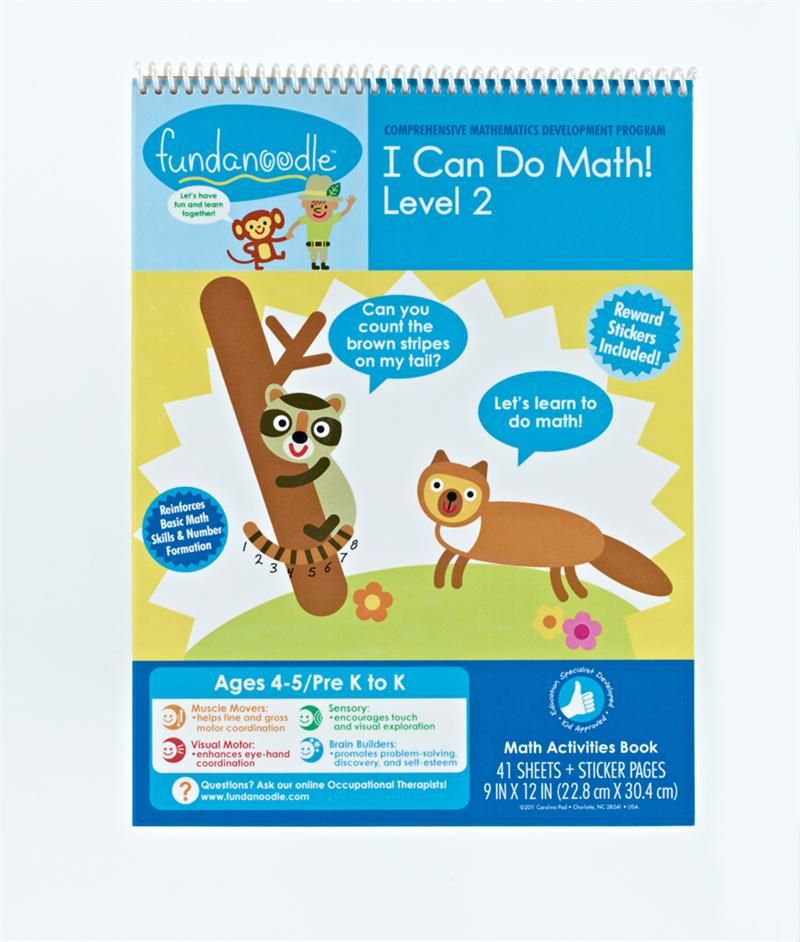 book geared towards children working at the PreK – K level. It will help teach your child the numbers from 0-20. Other skills such as basic math skills, number formation, counting, matching, hidden pictures, coloring and drawing help to reinforce what needs to be learned at this level.
Max & Alphie's Adventures Level 2  contains 40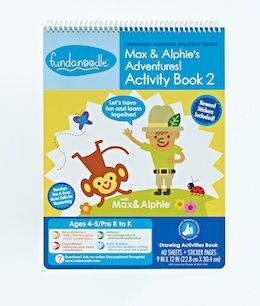 pages of activities meant to strengthen and build hand muscle control and endurance in writing. Through simple mazes, tracing, dot-to-dots, and matching this book seeks to build confidence and encourage creativity. This book is also geared towards the 4-5 year olds.
Both of these oversize 9x12 books are constructed from sturdy cardboard with a spiral top. The pages are perforated at the top so that they can be removed if wanted. Because of the size of the pages I chose to just keep the pages within the notebook. Each page gets a reward sticker when it is completed. Two pages of coordinating reward stickers are found at the back of each book. Each book is economically priced at $5.99.
McKenzie LOVES these books! She would sit and do page upon page from each of the books for hours. I love these books because they are helping tremendously with her fine motor skills. The directions for each page are simple yet to the point. The reward stickers were the best part of each page for McKenzie. While some of them were a little tricky to remove that did not slow down her enthusiasm for learning and completing the work.
Fundanoodle is a definite hit in our house and I wholeheartedly recommend them! Because these books are so economically priced I plan on purchasing more of these great books. McKenzie is just about finished with these two books so we will be moving on to the next books. Be sure to check out what my Crewmates though of these books and the other levels/books that were reviewed by clicking the banner below. I am sure you will find something for your family.
Company ~ Fundanoodle
Product ~ I Can Do Math Level 2 &
Max & Alphie's Adventures Level 2

Price ~ $5.99 each
Ages ~ 4-5 / Pre K to K