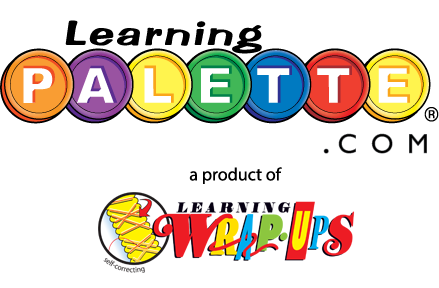 Over the last several weeks the girls have been working with an exciting online program called
LearningPalette.com
from
Learning Wrap ups
.
Online games are a great extension to our homeschool day so I was really excited when we were selected to use this product. LearningPalette is the online recreation for the LearningPalette boards. Recommended for students in grades K-5th the palettes are self answering with 6 different levels for math and 4 different levels for reading.
We received a full Online Family Subscription for all levels of the Reading/Math Palettes for a full year for up to 5 users. This subscription normally retails for $59.95. With over 35 math levels and 20 different reading titles for grades K-5, your student will have access to almost 8,000 questions to answer!
Setting up your account and logging on to the program is quick and easy. Once you are in the program simply click on the area you want to focus on, Math or Reading. Then select the level you would like, basic – level 5 for Math and basic – level 3 for Reading.
Once you have selected your topic the game board is brought up on screen. Simply follow the directions on the right hand side and match the colored disks to the correct answer. When you have finished the entire disk, check your answer and see if you got them right. There is also a spot for the parents to check the progress for each student you have signed up.
I used this program with Mikayla (11), Montana (7), and McKenzie (4) with great success. They all enjoyed logging on to the program whether it be on the iPad, laptop or desktop computer. I primarily used this program as a supplementary to our current math program 3-4 times a week. We were able to use it more during tennis season when my two youngest would bring the iPad to the matches and play.
Overall, the girls and I have really enjoyed this program. My only complaint is that when I have the girls all logged in on separate computers/devices the program does not recognize their progress individually. For some reason it only recorded data in the progress report for McKenzie. Now, this could be user error on my part but that is my only gripe with the program. Will this keep us from using the program? Nope! We enjoy this program so much and the girls like it and ask to "play". I am so impressed with this program that I am ordering some other products from
Learning Wrap ups
for our summer studies including
Learning Wrap up Basic Math Intro Kit,
10 Days to Multiplication Mastery Wrap up and Book Combo
, and
10 Steps to Addition Mastery Wrap up and Book Combo
.
Learning Wrap ups has been quite generous and is offering readers of this blog 20% off of their products. Just use the code "HOMESCHOOL" to receive 20% off your order (use the same code at
LearningPalette.com
for 20% off the online program).
We give this program two thumbs up and definitely think you should check this program out for yourself. Be sure to click the banner below and check out what my Crewmates thought of this program or the other products up for review.

Price ~ $59.95 for up to 5 students
Ages ~ ideal for grades K-5th