Today I am excited to share with you a really
great set of classic books from
Kinder Cottage Publishing
. As a book loving family we were so happy to receive two books from Kinder Cottage Publishing,
Peter Rabbit at the Farm
and
Peter Rabbit's Birthday
for review.
Kinder Cottage Publishing was started just a few short years ago in 2012 by Howard and Ann Closs. The company bases their focus on providing materials that are characteristic of western civilization such as history, literature, Christianity, and culture. However, Kinder Cottage Publishing's main goal is to develop and provide products that help parents train and instruct young children.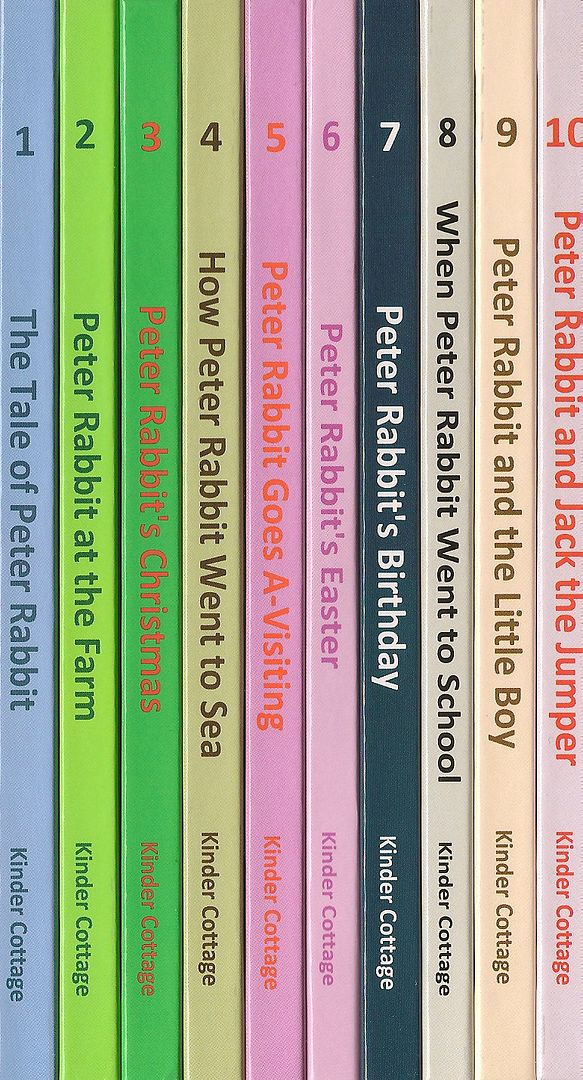 Members of the Crew were able to choose two, 5×7 hardback picture books from the timeless classic Peter Rabbit series which includes the following ten titles:
Each of these books was originally written by Duff Graham for the Henry Altemus company over 90 yrs ago. The Kinder Cottage Publishing company has edited the books to modernize the text. For example, the word
velocipede
was originally used to mean a bicycle.
When we were deciding which two titles we wanted for our collection I let McKenzie (4) help me pick since I knew I would be reading them to her the most and since the books are recommended for children aged 3-9. She was very happy when her two choices came in the mail.
Let me tell you a little bit about each book that retails for $4.00 each. Or you can purchase the entire 10 book set for just $30.00.
Peter Rabbit at the Farm
is a fun story as Peter finds himself full of mischief as he runs away to Mr. McGregor's farm. Along the way, Peter Rabbit saves Little Goosie Poosie and her family while solving the mystery of the missing water in the pond. Peter Rabbit's day at the farm involves many different adventures but he always seems to makes it home safe and sound.
Peter Rabbit's Birthday
tells of the time that Peter Rabbit nearly misses his own birthday celebration. After spending the day at Mr. McGregor's farm inviting all his friends and getting into mischief and losing track of time he nearly misses his own party. A helpful little boy on his bicycle, Bobby, gives Peter a ride home in his basket after he notices that Peter has been crying. Peter quickly corrects him saying that he was not crying, rather it was "raining in his eyes".
We have really enjoyed reading these two books and will be adding the other 8 stories to our collection this month. I have read these two books to McKenzie over 100 times, seriously! She now knows the stories by heart from the pictures and you can often find her reading them to her babies and stuffed animals. Now that baby Micah is here, he has been listening to the stories too.
We have enjoyed these timeless classic stories of Peter Rabbit and do not have any trouble spending the money to add more to our home library. Also, Kinder Cottage Publishing has offered a special bonus just for readers of Schoolhouse Review Crew blogs, head over to the website and enter the code '
TOS
' for 20% off your purchase. Be sure to check out what my Crewmate thought of these two books and the other 8 up for review by clicking the banner below.

Price ~ $4.00 each or $30.00 for the set of 10
Ages ~ geared towards 3-9 year olds