Teaching writing can either strike fear into you or make you giddy. I have been hovering between the two camps for the last three years of our homeschooling journey. We have dabbled with many writing programs before and I was so happy when the opportunity to try out Teaching Writing with Structure and Style Set (TWSS) and Student Writing Intensive Level C Set (SWI) from Institute for Excellence in Writing (IEW)
If you are a homeschooler I am pretty sure you have heard the buzz about IEW. Founded by Andrew Pudewa who sought to provide a better way to teaching children the skill of writing. For this review, I received the Teaching Writing/ Student Writing Value Package, Level C (grades 9-12) which retails for $249.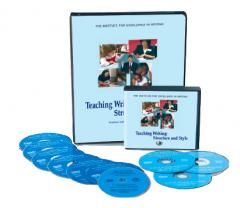 Teaching Writing with Structure and Style Set (TWSS) is a 10 dvd set designed for teacher/parent educators who want to give their children a strong foundation in writing. TWSS includes a 3-ring binder with labeled dividers and all of the worksheets needed to follow along with Mr. Pudewa's teaching on the DVDs.  Six (6) DVDs teach on the 9 units with over 10 hours of viewing time. Also included is a DVD with helpful tips and tricks along with three(3) workshop DVDs for the specific grade levels.  
Teaching units include:
1.  Note Making and Outlines
2.  Summarizing from Notes
3.  Summarizing Narrative Stories
4.  Summarizing References
5.  Writing from Pictures
6.  Library Research Reports
7.  Creative Writing
8.  Essay Writing
9.  Critiques
"This powerful and inspiring seminar will transform the way you teach writing to children (and perhaps your own writing as well)! You'll learn how to incrementally teach students to write with clear structure and compelling style. Begin with the basics—rewriting a paragraph—and continue all the way into advanced creative and essay writing. Learn how to nurture excellence in writing and thinking in students of any age" ~website
With repeated positive interaction between the student and teacher this program provides skill based training and helps develop a love of writing for years to come. TWSS includes 10 DVDs and a seminar workbook which sells for $169.00. Individual components can be purchased separately for $145. (DVDs) and $35. (workbook).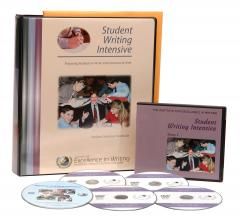 The Student Writing Intensive (SWI) comes in three levels A, B, & C and provides instruction for children in grades 3-12. The DVDs included have Mr. Pudewa teaching in a small group setting and directly to your child.
"Recorded live with Mr. Andrew Pudewa, this four-DVD writing course for students lays a solid foundation of writing skills." ~website

 
This course can be studied in either 15 or 30 weeks depending on how fast you wish to cover the material. Your student will effectively learn how to use a range of structural models and stylistic techniques to enhance their writing. This product is available separately for $109. and contains:
• Structure & Style Overview DVD for parents and teachers
• Four instructional student DVDs
• Three-ring binder with dividers
• Student packet with a scope & sequence, teacher's notes and student handouts for one student
This is our second time owning IEW. Two years ago I purchased the SWI-C set and borrowed the TWSS from a friend with the hopes of getting the girls started with writing beautifully. I will admit, I failed at that time. It was overwhelming to me and it just did not "click" with the girls so I sold my SWI-C set.
We have been so blessed with this opportunity to give IEW another shot and I am incredibly thankful! While I have started slowly, just 2-3 days a week, with just using Marie as my tester I have seen great improvement in her writing and the ability to pick out the key word outlines. I have seen definite improvement in her ability to really polish up her writing.
I used to dread grading writing prose from the girls and put it off on the Lt. Now, I am so proud of the results and finished products that Marie is able to produce. Yes, she does need some hand holding along the way but with IEW I have been given the step-by-step training to help her succeed. This fall, Marie has the opportunity to take an IEW writing class at our new co-op. Marie will go through SWI-C completely and the Elegant Essay this year.
Our experience with IEW this time around is like night and day. I will not be selling my IEW this time around and look forward to incorporating the rest of the girls into the program at their specific levels and give them a firm foundation early on in their school years. I recommend this program hands down! This is one of the few programs out there where you have to look past the price and just go for it! Think of it as an investment in your child's future! Be sure to check out my CrewMates reviews of this product and the other levels available. Also reviewed was the Teaching the Classics DVD Seminar & Workbook. Click the banner below.

Company ~ Institute for Excellence in Writing
Product ~ Teaching Writing with Structure and Style Set (TWSS) and Student Writing Intensive Level C Set (SWI)
Price ~ $249.00 for the Value Set