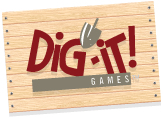 Sometimes playing video games is educational. Especially when you play the new game Mayan Mysteries from Dig-It! Games. With this new game your child will take an educational journey back in time through a mysterious Ancient Mayan civilization.
Dig-It! Games was founded in 2005 by a professional archaeologist and former middle-school teacher, Suzi Wilczynski, who sought to develop educational games which promote independent learning, creative thinking  and cultural awareness. With the help of Robert J. Sharer, an archaeologist and professor of anthropology at the University of Pennsylvania with more than 30 years of experience, Dig-It! Games released Mayan Mysteries in 2012.

Mayan Mysteries is a  puzzle-based game for PC's and  Mac's that runs in your browser and retails for $21.99 (single user accounts). With the age of technology Mayan Mysteries is also available on mobile devices like an iPad for $4.99. This exciting  game combines the fun of adventure with real information about ancient Maya civilization.
"Join Team Q in their quest to stop the mysterious master thief Ladrone and locate the mythical lost city of Ich'aak! Explore the mysterious world of the ancient Maya and learn about their remarkable civilization.." ~ from website
Designed for players 11 years and older with historically accurate depictions of the Maya culture with no violence or graphic images, makes Mayan Mysteries a great tool for learning about this culture of the past. Topics on warfare and sacrifices are included and are not appropriate for children younger than 11. Throughout the game you will discover artifacts, visit ancient Mayan cities, learn Mayan math, decode hieroglyphics and explore the Maya calendar in-depth all from the comfort of your home.
Madison, my rising 7th grader, was my tester of this game and she LOVED it! Mayan Mysteries is packed with history and geography information to keep you busy and learning. I will say that there is a lot of reading involved in this game, however it is still fun and exciting. Clike HERE to try the free demo of the game.
"Learning about the culture of the Mayan people, where they lived, what they ate, and how they lived was fascinating. The archeological digging and mapping of where the temples were located was a fun part of the game. I am pretty excited to be listed as #7 on the current leaderboard (mjcaffey7) and I can't wait for the next installment!" ~ S. Madison
It only took Madison 3 days to solve the mystery. She was eager to solve the in-game puzzles, collect artifacts and achievement badges. She can not wait until the second part of the game is released. I enjoyed that she was also learning new facts about the Mayan culture as well. Be sure to check out what my CrewMates thought of this game, the online version, and the iPad version that was also reviewed by clicking the banner below.

Company ~ Dig-It! Games
Product ~ Mayan Mysteries
Price ~ $21.99 single user accounts
Ages ~ 11 years and up
Platform ~ Online or iPad