Nowadays kids are pretty computer savvy. I was really excited when we were offered to review a brand new course with Madison called KidCoder Web Series from Homeschool Programming.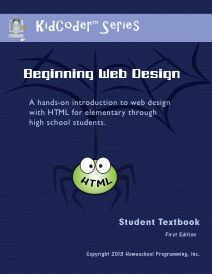 KidCoder Web Series is a brand new course designed to teach your child or yourself the basics of HTML. Recommended for grades 4th-12th this course is designed to be completed in just one semester. When you finish the course you will have knowledge of what HTML means, how to read HTML and how to design your very own webpage. Sounds exciting, right?! Topics include:
~ Mark-up concepts
~ Website layouts & files
~ Backing up projects
~ Essential HTML symbols
~ Styling of text
~ Using symbols and lists
~ Internal and external hyperlinks
~ Navigation bars and footers
~ Simple CSS effects
~ Spacing and positioning
~ Graphics and image editing
~ Tables
With 234 pages and 13 chapters, with 1-4 lessons per chapter, each chapter is filled with fun activities and the final chapter contains the final project. A brief history of computers and the World Wide Web are given in the beginning. Each lesson contains "your turn" practice activities that help you put your newfound skills to the test and "work with me" practice that includes step-by-step pictorials making sure you come away with great knowledge about coding.
There is no additional software to buy, nor any external web site to configure. Students will use free text editors and web browsers to build and view web pages on their own computer. ~ website
This course works on either Windows or Mac OS and retails for $85. with a printed manual and instructional videos. The full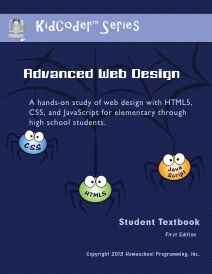 year course is expected to be complete in August 2013 and available for $145. While the instructional videos are completely optional they do enhance the student manual with verbal instructions and complete step-by-step pictures to follow along too. These are especially helpful if you are a visual learner.
Madison and I had a great time going through this course. While we have made slower progress than I would have liked due to come computer issues we are into Chapter 5 and enjoying learning HTML. Madison has a blog that she has been working on and my goal is to get her to writing and taking photos on her blog more during this fast approaching new school year. I hope to continue on with this at a slower rate just because of my time schedule. Be sure to read what my Crewmates thought of this program and the others that were reviewed by clicking the banner below.

Company ~ Homeschool Programming
Product ~ KidCoder Web Series
Price ~ $85.00
Ages ~ 4th-12th graders
Operating System ~ Windows or Mac
on Facebook