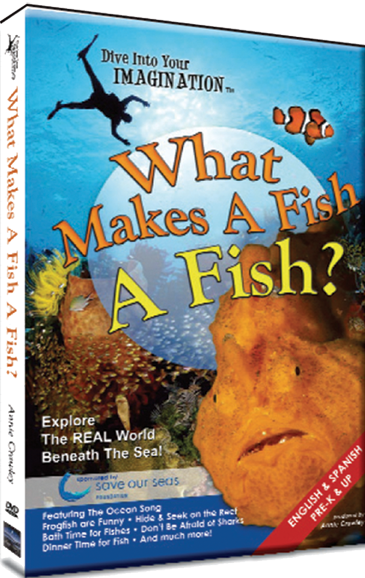 Have you ever wondered what it is really like under the ocean? Well, now you can take a first hand glance at the marvels of the sea with DVD videos from
Dive Into Your Imagination
. Dive into Your Imagination was started by Annie Crawley, a.k.a Ocean Annie, as a way to educate children about protecting the environment and the Ocean. We received the DVD entitled "What Makes a Fish a Fish" and the accompanying teachers guide. Let me tell you a little more about it.
What Makes a Fish, A Fish? is presented in a short 30 minute, documentary style DVD geared towards children in PreK or K age range. However, my older girls also got a kick out of watching this DVD too. Details about what makes a fish a fish is presented in simple sentences with pictures of real ocean life.
Anne Crawley, the founder of Dive Into Your Imagination never saw the ocean until she was 20 years old and in college. As a California girl that is hard for me to imagine not seeing the ocean for that long, but I digress.
Our ocean is responsible for 70% of the oxygen our planet needs, holds 98% of our water, and 70% of people on our planet rely on the protein of the sea for their food. It is an easy connection, we need a healthy ocean in order for life on our planet to exist. Kids love dolphins, turtles, clownfish, sharks and all ocean animals. Through my educational and entertaining presentations at schools, libraries, and events, everyone asked for more. I realized that kids are passionate about our ocean and if we could design educator guides to teach parents and teachers, we could get the ocean into your classrooms! Together with a team of educators, we created these cross-curricular guides combining literacy, math, science, social studies, and geography with character education. We included a special behavior component in which you become the scuba instructors while encouraging your kids to use their imagination to be scuba diving scientists! Don't worry, the important part about scuba diving is covered in the appendix of each of the manuals so we teach you what you need to know! Scuba diving is a safe sport and parallels some of life's greatest lessons, my favorite: if we get excited when we go scuba diving we have to remember to stop, think, breathe slowly and then act.
~ from the author
The meat of this program is definitely the educators guide. There are activity and coloring pages, ideas for implementing these activities, and suggested reading included. Here is a breakdown of what is included in each chapter:
1. General Concepts/Topics to Teach
2. Objectives
3. Character Education
4. Treasure Chest of Vocabulary Words
5. Required Materials
6. Anticipatory Set: Lead In Questions
and Answers
7. Imagination Play Script
8. Classroom Activity Stations
9. Extension Ideas and Journaling
10. CCSS Alignment
11. Book List/Applications/DVDS Specific
to tie Activities and Character
Education
12. Closure and Follow-Up
13. Plan for Independent Practice
14. Transcript of DVD
15. Go Blue Environmental Section
What Makes a Fish a Fish Educator Guide for grades 1-3 is 374 pages long with something for everyone. The DVDs are available for $19.95 each, educator guides are $69.99 per level. For the rest of May and all of June, there will be free shipping with any order placed at
www.AnnieCrawley.com/store.
When you place your DVD order note that you are a homeschooling parent and you will receive a $299. value gift of a set of the PDF educator guides!
While some of my fellow Crewmates felt that some of the other DVD's reviewed followed an evolutionist point of view, I did not feel that with this particular DVD. Use your discretion when purchasing. That said my girls and I enjoyed the DVD and I can see us enjoying it for years to come. Check out what my Crewmates thought of this DVD and the other two that were reviewed by clicking
here
.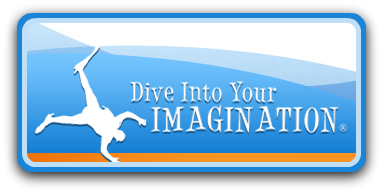 Company ~
Dive into Your Imagination
Product ~
What Makes a Fish a Fish?
Price ~ DVD $19.95, Educator guide $69.99
Ages ~Pre-K - 3rd
~~~~~~~~~~~~~~~~~~~~~~~~~~~~~~~~~~~~~~~~~~~~~~~~~Disclaimer ~ I received a
What Makes a Fish, a Fish DVD and educator guide
from Dive Into Your Imagination, in exchange for a thorough and honest review. Though I am compensated with free products, I am not compensated in the form of cash for my reviews. The opinions I have given are mine and may differ from others but are not influenced by the company or the free product provided.