No more flash cards, no more flashcards
No more F-L-A-S-H-C-A-R-D-S!!!
Are you tired of the same old flash card routine for learning math facts?  Well, look no further because CapJaxMathFacts  is a fun innovative way to learn or review those pesky math facts.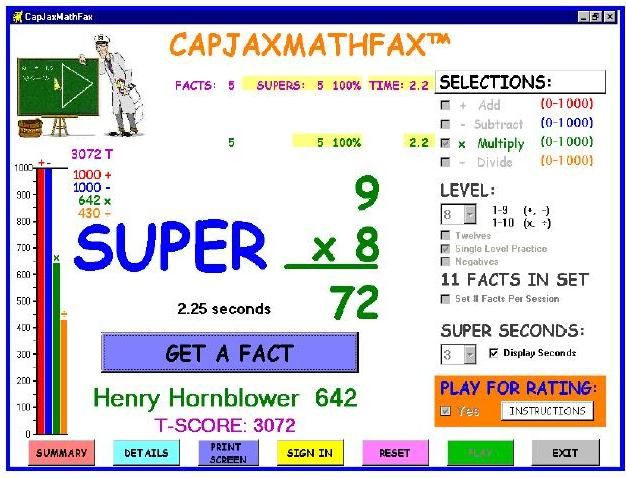 CapJaxMathFax has a system of controls built into the program that allows small-step goal-setting so that progress is evident and guaranteed. CaptJaxMathFacts is a fun computer based math game that helps your child learn or review there math facts by:
Uses a computer to provide drill and practice so that practice time is not limited by teacher availability.
Automatically generates exercises. Teachers don't prepare quizzes. They merely provide the parameters for them.
Builds exercises for any of the four math tables (addition, subtraction, multiplication, division) or any combination of tables.
Guarantees student success by taking small steps through levels of
difficulty.
Can focus practice at a single level of difficulty or may review earlier levels.
Randomly generates problems without repetition.
Allows variable numbers of problems in an exercise.
Reduces learner stress by timing facts individually.
Provides immediate positive feedback for correct answers.
Provides extra reinforcement for fast, correct answers.
Displays an overall performance report at the conclusion of each exercise.
Prints reports for teacher review and for use as certificates of achievement.
Displays and prints item diagnostic details.
Uses a rating system that allows students to keep personal scores and
set goals.
Charts student rating progress graphically.
Maintains a database of student activity over time

                                                                        ~ from the website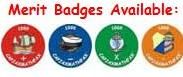 While we had a bit of a difficult time installing the program at the beginning because Norton said it was a High Risk, I am glad we were able to install the full program. Mikayla has been able to get on and review her math facts. I have seen improvement in recall and we will continue to use the program until those facts are solid.  Montana is coming up in the ranks and will be able to begin the addition portion next school year.  I love the fact that for added incentive they offer Merit Badges for $4.00 a set for  mastering the four different math facts.  I plan on purchasing these for a little more incentive for the girls.For $29.95 CapJaxMathFax is available for instant download. The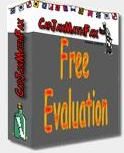 addition portion of the program is free to check out, you can find the link here. If you enjoy the addition portion I know you will love the full version which gives access to all four types of math facts for the $29.95. Find out what my Crewmates thought of the program by clicking here and reading some of their reviews.

Product ~ CapJaxMathFax
Price ~ $29.95 download
Ages ~ K-6th, or anyone needing to learn math facts
~~~~~~~~~~~~~~~~~~~~~~~~~~~~~~~~~~~~~~~~~~~~~~~~~Disclaimer ~ I received a download of  CapJaxMathFax , in exchange for a thorough and honest review. Though I am compensated with free products, I am not compensated in the form of cash for my reviews. The opinions I have given are mine and may differ from others but are not influenced by the company or the free product provided.