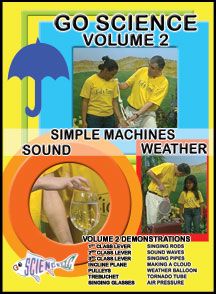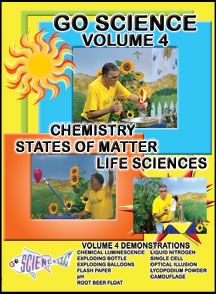 I have a real great treat for you today. Have you heard of Go Science from Library and Educational Services?  They are wonderful DVD's all about science. We were privileged to receive two DVD's for this review; Vol. 2 : Simple Machines sound and weather, and Vol. 4: Chemistry: States of Matter and Life Sciences.
Even kids who claim an aversion to science will be engaged by the high-energy science demonstrations of Ben Roy! Ben teaches science methods at the University of Tennessee at Chattanooga and is the former director of a science program on television. With this expertise, Ben captivates, motivates, and inspires students to be excited about science, while providing effective instruction based on science phenomena. Each of the 67 spectacular demonstrations of physical or chemical science has a spiritual application and points to our Creator!

                                                                       ~from the back cover of DVD
Each of the videos is taught by Mr. Ben Roy who has a definite energetic  passion for science. Currently there are 6 DVD's available in the Go Science series. Each DVD contains 12-14  different demonstrations and total running time ranges from 29 to 60 minutes for the complete DVD. The individual experimental segments last about 3-6 minutes. I love that these DVD's are Creation based and Mr. Roy ends each segment by saying:
"Every time we learn something about SCIENCE, we learn something about our CREATOR GOD!"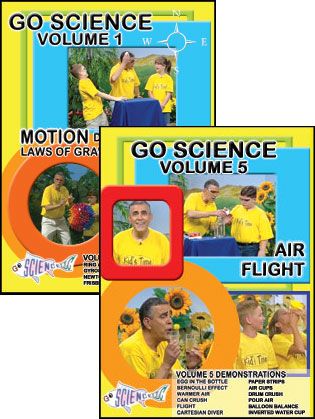 I have just been introduced to Library and Educational Services but I am a huge fan already.  Browse there site and you can find these DVD's and other quality materials at wholesale price. Speaking of price, these DVD's cost only $8.97 each or $47.95 for the complete set of 6.  Because Library and Educational Services is a wholesale company, serving "resellers, educators, librarians, home educators, as well as church leaders such as pastors or directors of children's ministries." you can purchase great quality materials at a fraction of the cost.
The girls LOVED these videos, especially the Chemistry video!  They loved the Flash paper and exploding balloons experiments the most, while I especially enjoyed the liquid nitrogen and chemical luminescence experiments. On the Simple Machines DVD we enjoyed the singing glasses and the tornado tube.
If you are looking for high quality science videos I highly recommend these DVD's. They are AWESOME! Anytime my girls get excited about something it is a great thing and they are excited over the experiments presented on the Go Science DVD's! The girls have requested that I purchase the other 4 DVD's in the set, and that is something I don't mind spending money on!
Check out what my Crewmates had to say about these DVD's by clicking here.

Company ~ Library and Educational Services
Product ~ GO Science
Price ~ $8.97 per DVD or 447.95 per 6 DVD set
Ages ~6-14, plus adults who love science :-)
~~~~~~~~~~~~~~~~~~~~~~~~~~~~~~~~~~~~~~~~~~~~~~~~~Disclaimer ~ I received a copy of Vol. 2 and Vol. 4 GO Science DVD's from Library and Educational Services, in exchange for a thorough and honest review. Though I am compensated with free products, I am not compensated in the form of cash for my reviews. The opinions I have given are mine and may differ from others but are not influenced by the company or the free product provided.