So have I got a real treat to share with you today. I was lucky enough to be chosen to review the Young Readers from Heritage History and this little gem of a CD did not disappoint.
 

The Heritage Classical Curriculum is the easiest, least expensive, and most enjoyable way to learn traditional history. Our "living books" reading program uses narrative histories that were popular with young people of earlier generations and features books of interest to students of all ages. The Young Readers collection is the introductory unit of the Heritage Classical Curriculum. It is intended for grammar school students who are reading fluently and would benefit from a broad introduction to leading events and characters of Western Civilization.

                                                                         ~from website
The Young Readers library includes 86 easy-to-read stories from many of the other CD libraries in the Heritage History curriculum series.  Rather than giving a complete overview of a civilization in the stories on this CD, Heritage History has chosen most of the books in the Young Readers collection to be short stories that  to appeal to children. The Young Readers CD collection includes stories from legends, historical fiction, adapted literature, and short biographies. In addition to the books provided, there are also  study aids, including timelines, historical maps, and era summaries in printable format on the CD.
Upon inserting the CD into my computer I was pleasantly surprised by the web browser format. It has the appearance of a web page but is completely separate from the internet. The books on the CD's are offered in printable PDF versions as well as E-book files. If you have a Kindle or similar device these are great for on the go reading. The CD is organized and easy to navigate which makes finding the right book a piece of cake! Heritage History currently offers five complete CD libraries configured as complete curriculums in addition to the Young Readers volume including: Ancient Greece, Ancient Rome, British Middle Ages, and the British Empire. There is something for everyone. Now, you are probably thinking that these CDs would cost you an arm and a leg for what you are getting, right? Nope, they are priced at $24.99 each, what a bargain!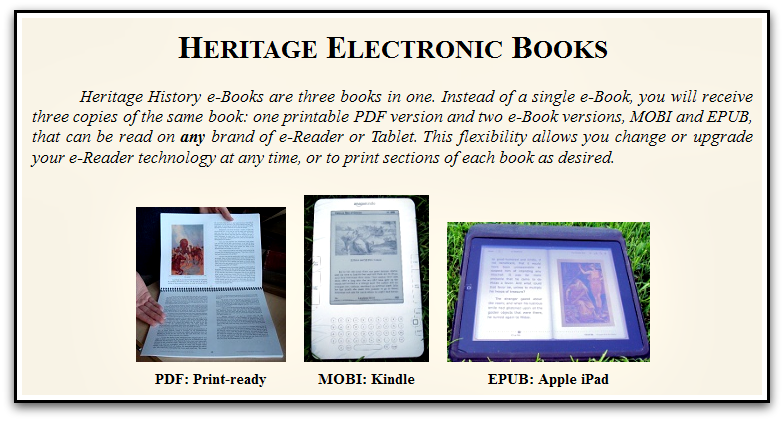 We have truly enjoyed adding these stories to our homeschool library and are enjoying them tremendously. Check out what my Crewmates had to say about this CD collection and the others by clicking here.
Company ~ Heritage History
Product ~ Young Readers
Price ~ $24.99
Ages ~ 9 and up
~~~~~~~~~~~~~~~~~~~~~~~~~~~~~~~~~~~~~~~~~~~~~~~~~Disclaimer ~ I received a copy of the Young Readers CD from Heritage History , in exchange for a thorough and honest review. Though I am compensated with free products, I am not compensated in the form of cash for my reviews. The opinions I have given are mine and may differ from others but are not influenced by the company or the free product provided.