The Magic Stories
from Allsaid & Dunn, LLC, publishers of The Reading Game and authors of the wildly popular Wordly Wise series.
Over the last six weeks I have been helping McKenzie, my 8-year-old 2nd grader as she works through The Magic Stories. These stories are apart of a supplemental reading program and include a series of six short stories for 2nd-3rd grade reading levels. There are six stories in this series and each has a moral to tell and they include:
~ The Magic Hole – A magic hole inside a rice bag changes Ping Ho's family life.
~ The Magic Ax – Tom learns the value of hard work.
~ The Magic Joke – An unhappy King and Princess.
~ The Magic Hotdog – Alfred just can't stop eating hot dogs.
~ The Magic Boots – By mistake, Patty is given a pair of goblin boots.
~ The Magic Box – A story about Rumpelstiltskin.
Each of The Magic Stories is roughly 20 pages long with simple yet appealing black line illustrations. The stories are available as a PDF download and can either be printed on a 8.5"x11" page or printed as a double-sided booklet. If you choose to print the stories your child may color in the illustrations personalizing the story to their liking. A feature I especially like is that these stories are also optimized for easy reading on a computer screen or iPad meaning I don't have to worry about storing them away somewhere.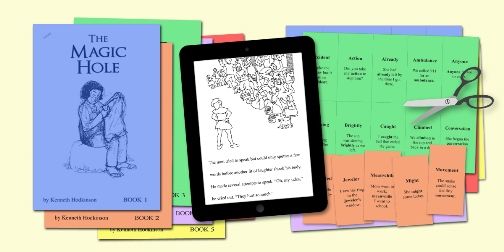 Worksheets that test reading comprehension, proficiency, writing, and word assessment are also included in this set for completion after the story has been read. These activities will help you gage just how well your child understood the story. There are four worksheets per story and include a maze, finish the sentence, imagine, and finish the story.
Each of these stories also contains a list of 40 different "Naughty Words". These are "Naughty Words" are words that tend to be more challenging to read and your child will come across while reading. They are printable cards that are formatted with the word and it being used within a sentence. It is suggested that you review these words with your child before beginning the story so they will have had exposure to them and to keep reading a positive experience without frustration. For McKenzie I choose to color-code and print each stories "Naughty Words" on colored paper and laminate them for durability.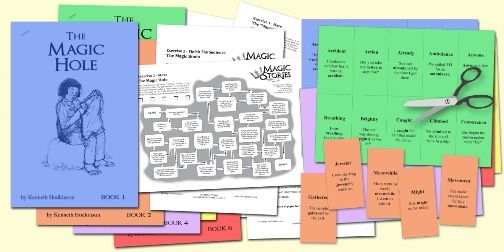 Since this is a supplemental reading curriculum we used each story for two weeks at a time. This pace works well for our 4-day school schedule, so let me tell you how we did it.
Week 1
Day 1 – Read through half of the vocabulary words making sure she knows how to pronounce and the general meaning.
Day 2 – Read through the other half of the vocabulary words, again checking for pronunciation and meaning.
Day 3 – McKenzie reads-aloud half of the story. Review "Naughty Words" list.
Day 4 – McKenzie reads the other half of the story aloud. Review "Naughty Words" list. Complete the story comprehension maze.
Week 2
Day 1 – Review all the "Naughty Words" and re-read the story aloud. Checking for accuracy.
Day 2 – Complete the finishing the sentence (exercise 2) worksheet. This is a lot of writing so we split it up throughout the day if need be.
Day 3 – Complete exercise 3 and reviewing "Naughty Words".
Day 4 – Complete exercise 4 and re-read the story one last time. This method has worked well for us and we have gotten through the first two stories during the review period.
Overall, we have thoroughly enjoyed this supplemental beginning reading program! It gives me confidence that McKenzie is truly learning how to become a great reader plus the stories have good morals that we try and teach all of our children. I definitely think you should check this program out if you have a 2nd-3rd grader, I think you will be pleased. If you have a younger child learning to read, start with
The Reading Game
for Kindergarteners or first graders for the foundational reading skills.
Check out what my CrewMates thought of The Magic Stories by clicking the banner below.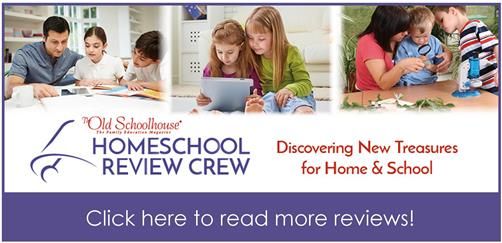 Company ~ Allsaid & Dunn, LLC, publishers of The Reading Game and authors of the Wordly Wise series.
Format ~ PDF download
Price ~ $16.95
Ages ~ 2nd – 3rd graders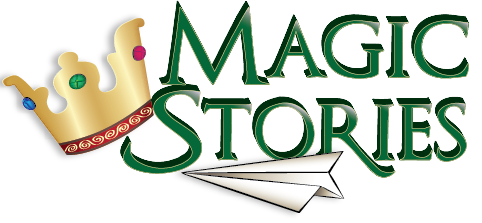 Social Media Links:




©2008 - 2017 A Stable Beginning. All rights reserved. All photographs, text, artwork, and other content may not be reproduced or transmitted in any form without the written permission of the author.




Having homeschooled now for 9 years I have had the privilege of teaching my youngest three daughters to read. Building confidence with reading and comprehension is really important and today I want to introduce you to