Gospel Tracts and Evangelism Tools Sampler Pack
from
Let the Little Children Come
. Back in September I shared with you the Is There Anything Better Than Candy? Box-Tract and today I wanted to share that Let the Little Children Come also provides many tools to share the gospel with children.
Normally, you don't find many Gospel tracts that are geared towards children. But look no further because Let the Little Children Come has the perfect solution for you. Let me tell you a little more about what we received in our sampler pack. Inside the sampler pack we received 10 of the company's most popular Gospel Tracts and Evangelism Tools designed to capture and hold the child's attention including:
~ Where's Everybody Going? Animated Tract: This tract tells of God's love for us everyday and the plan of salvation through animation.
~ John 3:16 Animated Tract: This tract is aimed to capture and hold the child's attention using a moving image in the booklet. With the help of a black screen, you hold it over the tract as you recite the scripture and the black screen animates the images on the page.
~ The True Story of Christmas Animated Tract: My children love hearing their birth stories and this is the perfect little book to share the biblical story of Jesus' birth with all your friends. This tract uses the same animation as the John 3:16 tract as you listen to the story of Jesus's birth.
~ The Most Amazing House Pop-up Tract: This tract is a 5-page pop-up booklet that illustrates the Gospel message in 3D. Each page helps you learn about the Most Amazing House that God has prepared for us in heaven.
~ The Lost Easter Egg Pop-up Tract: This is another cute pop-up book that tells the story of a lost Easter Egg. In it we learn of three friends who really want to find a lost Easter egg and we find out just as much of God's desire to be with each of us.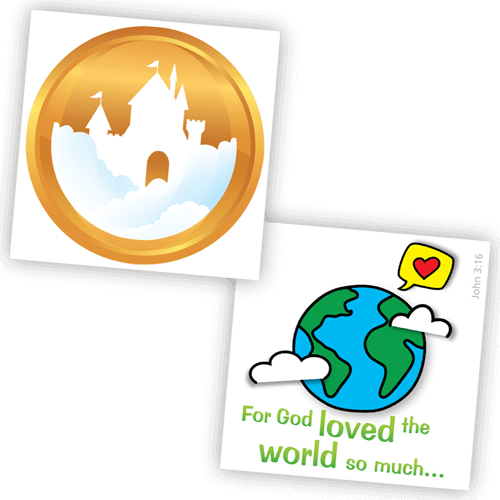 ~ Gospel Buttons Flip About: This tract opens and folds to reveal God's everlasting message of eternal life.
~ John 3:16 Flip About: Memorizing this important verse just got a little easier when you use this folding tract. With 4 brightly colored panels you will be able to see the meaning of the verse displayed phrase by phrase. Especially helpful when young children are memorizing.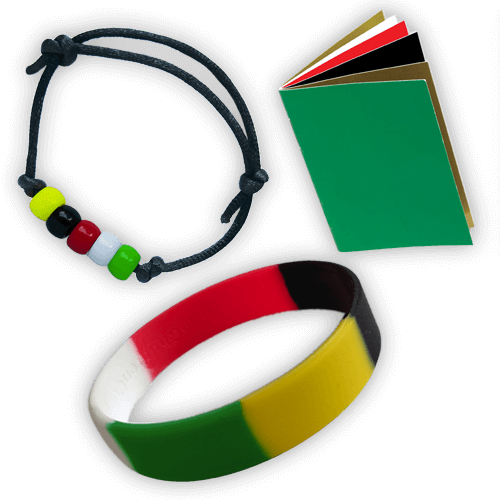 ~ Silicone Salvation Bracelet: This medium sized silicone bracelet tells the same message of salvation like the Wordless bracelet. It is sized for older children and youth and also comes in small and large sizes.
~ Wordless Bracelet Kit: Sharing the Gospel of Salvation has never been easier with the color beads of this bracelet tract kit. Each colored bead represents a part of the Gospel Message.
~ Wordless Book: Just like the Wordless bracelet and silicone bracelets these books tell the story of salvation through color alone. There are scripted instructions on what to say for each color if you need them.
We have been using each of these in our house since they arrived. We each have our favorite tracts but the one we can all agree on to be our favorite is the True Story of Christmas Animate Tract. We love everything about Christmas and this book just ties it into a story that everyone is sure to love and enjoy for many years. Each of these tracts are available to purchase separately for $11.95 each. The more you buy the cheaper the price. Sampler Tracts like the ones received are also available to purchase and e discounted with the more you buy.
Be sure to check out how my CrewMates used these in their homes by clicking the banner below!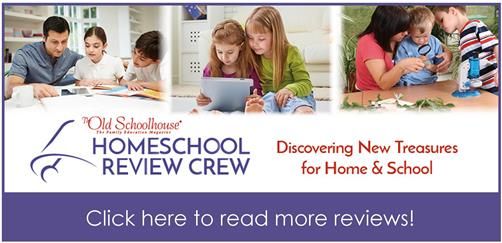 Price ~ $11.95
Ages ~ everybody

Social Media Links:




©2008 - 2016 A Stable Beginning. All rights reserved. All photographs, text, artwork, and other content may not be reproduced or transmitted in any form without the written permission of the author.

http://astablebeginning.com

Today I would like to introduce you to the