Language Smarts™ Level E
from
The Critical Thinking Co.™
with Montana, who is 10.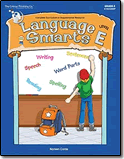 The Critical Thinking Co. is a family-owned business that has been "empowering the mind" for more than 50 years. They sell critical thinking products/supplements that cover reading, writing, mathematics, science, and history. Instead of rote drilling and memorization, students are encouraged to "carefully analyze what they are learning." The Critical Thinking Co. is on a mission to develop the critical thinking skills in all children. The Language Arts book is available in either book form or Windows PC download.
We received a physical copy of the book that is a hefty 390+ pages! This product is also available as an eBook too if you have multiple children to use this. I should note that the copywrite does allow you to make copies for your own personal family, something that as a large family homeschooler I appreciate.
This book is written for children in the 4th grade but it does contain information pertaining to 5th grade material too. It is so through that it can be used either as a supplement to your regular Language Arts curriculum or as a stand-alone complete curriculum. We used it as the latter during our review period.
The book covers a lot of material and you can get an in-depth look at the table of contents on the website, however, these are some of the topics covered:
• Syllables
• Word Parts (prefixes, suffixes, roots)
• Word Relationships (synonyms, antonyms, anagrams, analogies, palindromes, etc)
• Spelling
• Editing (Editor In Chief pages)
• Reference Materials (dictionary, online dictionary, thesaurus, online encyclopedia, searching the Internet, nonfiction)
• Parts of Speech
• Sentences
• Punctuation
• Using Words Correctly (homophones, misused words, homographs)
• Reading and Writing (context clues, similes, metaphors, idioms, proverbs, comprehension, drama, poems, etc.)
• Writing (process, personal narrative, opinions, informative, and Writing Detective pages)
Working through the book is quite simple. You can start from the first page and go that route or you can choose to skip around topics as we did. Normally Montana completed 2 pages a day, Monday through Friday, but I skipped around in each section to keep the material fresh. The worksheets instructions are explained thoroughly and always include an example of what is being asked to be completed. For the teacher, the answers are included in the back of the book. I especially enjoy the fact that I can use this as a supplement, especially since we are fast approaching our gymnastics travel season. I know that instead of lugging around our current language arts curricula I can turn to Language Smarts™ Level E and know that Montana is getting quality instruction and material to practice on her level. For that I give this product two thumbs up!
Be sure to check out what my CrewMates thought of this product and the other items being reviewed by clicking the banner below to read their thoughts.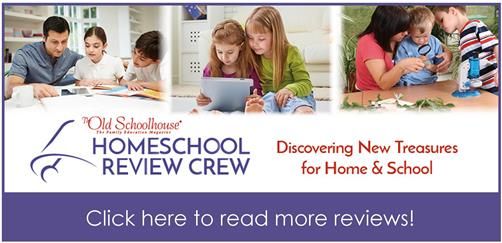 Price ~ $42.99 physical book or eBook
Ages ~ 4th grade, suitable for 5th grade too
Social Media Links:
#hsreviews #criticalthinking #languagearts










©2008 - 2016 A Stable Beginning. All rights reserved. All photographs, text, artwork, and other content may not be reproduced or transmitted in any form without the written permission of the author.

http://astablebeginning.com

Just recently I have had the opportunity to work through the brand new curricula