This little boy loves to do art and get messy! I love for him to get creative and explore this world of ours, but sometimes I don't want a huge mess to clean up afterwards. But what if I told you there was such a thing as no mess painting? That's right, no cups, smocks, brushes, or a single drop of water needed to paint a masterpiece for your budding Picasso.
For the last few weeks Micah, who is just about to turn 2 years old, has been keeping himself busy creating masterpieces and doing art "cool" as he calls it with the help of Kwik Stix Metalix and Kwik Stix Neons from the The Pencil Grip, Inc.

.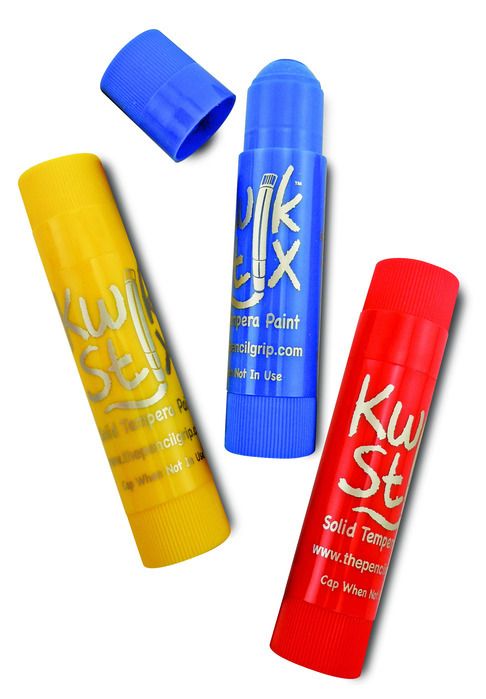 Let me tell you these no mess paint sticks have since changed the way we paint! Each of these 6 packs contain colors that are so
vibrant and the paint is contained in a tube roughly the size of a glue stick. This size is perfect for little hands to grasp.
The Neon set includes the following colors:
The Metalix set includes the following colors:
We are huge fans of these paint sticks and also have a set of the
12 piece set of Kwik Stix too.
The 12 pack of Kwik Stix contains the following colors to use:
With a fast drying and non-toxic formula, the colors dry in just 90 seconds after coming in contact with your paper, cardboard, wood, or even canvas media. Just pop the cap off, twist the stick to make the paint rise up and you are ready for hours of fun painting.
Can I tell you we love these paint sticks! They are extremely affordable at just $5.99 a set. They are so much fun and I have no problem letting Micah paint at the easel by himself or sitting at or on top of the table.
I don't have to worry about him spilling, or in his case flinging paint all through the house. He loves it because it gives him some independence while I am teaching or helping one of his sisters. I love them because there is no mess associated with painting.
Now, don't get me wrong. I do still let him paint and get messy with regular paint, but that is few and far in between these days since we have been introduced to Kwik Stix. I also, really like that these are so portable. We have taken them to gymnastics and track meets near and far and they keep everyone busy and entertained on long meet days.
We also received
The Pencil Grip – Single Grip
in our package of Kwik Stix.
The Pencil Grip is the original ergonomic writing aid recommended by doctors, teachers and occupational therapists and is made for both righties and lefties. This Single Grip fits on pencils, pens and crayons so you are covered all around with writing utensils. .
If you are not familiar
The Pencil Grip was invented in 1992 by Dr. Lois Provda, a prominent educational therapist. Since inventing the first grips way back in the early 90's, the company has grown to offer many unique and innovative products for the home, school, and office.
I have been really stressing correct pencil grip for all my children, but especially for my younger children. McKenzie has been using our pink single grip on her pencil and I frequently say "pencil check" and she holds up her hand with the pencil gripped correctly. Since doing this it has really helped her handwriting and having her slow down and take her time forming her letters.
And guess what!? I have a set of the
12 pack Kwik Stix to give away to my readers! While I normally don't get to give away review products but this company is so awesome that they want to get the word out about their product and share its awesomness.
Just leave me a comment below and tell me what your favorite color is,
Easy Peasy! The giveaway is only open to US residents at this time and one winner will be picked on

Thursday
, May 12th at 6PM Eastern.
The winner will have 24 hours to contact me with their address and The Pencil Grip company will ship your set directly to you.

Price ~ $5.99 per set
Ages ~ preschool and up




Hashtags: #hsreviews #KwikStix, #temperapaint, #kidsartsupplies

©2008 - 2016 A Stable Beginning. All rights reserved. All photographs, text, artwork, and other content may not be reproduced or transmitted in any form without the written permission of the author.
http://astablebeginning.com