We love to delve into science around here. Normally, McKenzie, who is 6, just goes along with the flow of what I am teaching the older girls. She loves sitting in on their lessons and doing experiments since I did not really have anything formal planned for her Kindergarten year. Recently though, McKenzie has just started to really wonder about everything in this big world we live in. Over the last few weeks I have been able to fuel her curiosity with the help of a new homeschool science program from ScienceShepherd called Introductory Science, Level A. Let me tell you a little more about it.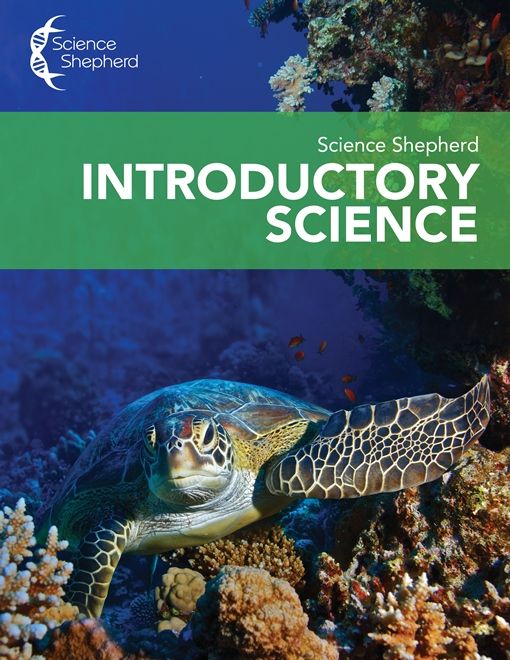 The Science Shepherd Science Curriculum
was created by a homeschool dad of six children who also happens to be a medical doctor, Scott Hardin, M.D. Dr. Hardin and his wife experienced first-hand the need for quality, high level science curricula for the homeschool community. When they ran into road blocks of finding such a program to meet their children's needs, they developed the flagship Science Shepherd Life Sciences and Biology programs to aid parents in adequately meeting the needs of teaching higher level science in the upper grades. With advancing technology, the company has been able to provide advanced modes of presentation through integrating video, pictures and graphics into a streaming teaching format.
Introductory Science, Level A is a complete 35-week science curriculum that includes 12 month access to daily on-demand video lessons as part of the course. The high quality video lessons are streamed over the internet site and are short lasting only 2-5 minutes tops. With this program you will cover topics in Earth, Life, and Physical Science such as:
Ecology and Natural Resources
This video science curriculum is intended for students aged 6-11 and has a corresponding student notebook for Level A or B. It currently retails for $35.00 and includes 12 months access to the video lessons. The Level A workbook is geared for the younger age range, approximately ages 6-8, while Level B is for 9-11 year olds. The material presented is essentially the same at both levels, however, Level B includes additional content for older students. You can find samples of both Level A and Level B student workbooks. Level A retails for $12.00 and the Level B is $15.00. Each student will need their own notebook to complete the video course. A detailed answer key is also available to purchase for just $3.00. If you need more time that the 12 months' access granted with initial purchase of the course, extensions are also granted and range between $.5.00-$15.00.
We have loved everything about this science program. It is the perfect amount of information for McKenzie and then some. She LOVES it and wants to complete her lessons first thing in the morning after her Bible and calendar lessons. Frequently we watched more than one video segment because she just wanted more and more. Because McKenzie was so eager to complete her work, it made learning so much fun for her.
We both especially enjoyed the video lessons and all the hands-on activities sprinkled throughout the entire program. I love that this curriculum focuses on a Biblical perspective. That is an important feature for our family. Because we have enjoyed this program so much I have scheduled to include this in McKenzie's 1
st
grade year.
Science Shepherd also has upper level science curriculum, LifeScience and Biology, be sure to check those out if you have older students. Also, be sure to see what my CrewMates thought of the Introductory Science, Level A and B by clicking the banner below.

Price ~ video course access:$35., student workbook, level A:$12.00, answer key: $3.00
Ages ~ 6-11 year olds


Facebook
Twitter
@scienceshepherd
Pinterest
@scienceshepherd
Hashtags
: #hsreviews #homeschoolscience #onlinescience

©2008 - 2016 A Stable Beginning. All rights reserved. All photographs, text, artwork, and other content may not be reproduced or transmitted in any form without the written permission of the author.