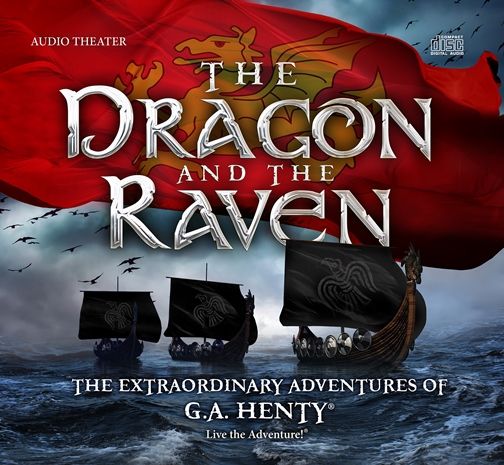 We are towards the end of gymnastics travel season and the long hours on the road that accompany it. A few weeks ago we were asked to review the newest audio drama from
Heirloom Audio Productions
called
The Dragon and the Raven
. It really should come as no surprise that we gobbled it up on our trip to Ohio, because really, I can only listen to my sons favorite videos so many times.
Heirloom Audio Productions is passionate about bringing history to life in exciting and engaging audio dramas. G.A. Henty's adventure books became popular during the 19th century. His books became well known for emphasizing traits of courage, high moral character, diligence, and perseverance. With Heirloom Audio Productions newest release title, they have truly set the bar high and it does not disappoint one bit.
We received CD set, Digital Download of the Study Guide, Soundtrack, and a printable poster. This story retells history's most daring expeditions of the 800's AD and tells the story of loyalty, perseverance, and sacrifice during the time when the Danes invade England. A beautifully presented story filled with character, bravery, courage, and faith.

The two CD set of this high energy and fast pace story focused on building character for the next generation while bringing history lessons to life within the chapters. With the extremely high quality audio reenactments, this story it is perfect for ages 6 years old to adult.
My girls and I all enjoyed this CD! My six year old was a bit scared at first as the story started, but that fear faded as the story continued on. We are on the go almost every day of the week, so we strictly listened to this while traveling on our long trips. The girls were silent as the story played, eagerly listening for each detail. Sometimes we would stay in the van until a chapter had ended just so we could hear the end of the story. I really like the fact that the stories where numbered so we could find our spot quickly.
So, what's the bottom line?! We love this CD! I would recommend this product to any and all looking to add a bit of family friendly audio / radio drama into the homes. Be sure to see what my Crewmates thought of The Dragon and the Raven by clicking on the banner below.