Now that you have most likely been in school for a few weeks, are you looking to incorporate literature guides into your homeschool? Our family has a fond affection towards good books. I try to fill our bookshelves full of good books as well as check them out from the local library.
In our family I have found that literature guides make reading even more enjoyable. Have you ever checked out the literature guides from Progeny Press? For this review we received a downloadable interactive PDF copy of the study guide for the novel Stone Fox.
Progeny Press has been a family owned and operated company since 1992. They produce high quality literature guides from a Christian worldview ranging from lower elementary years through high school. They literally have 100+ guides and add 3-6 new titles each year ranging from lower elementary, upper elementary, middle school, and high school. If you are looking for a literature guide, they have got you covered!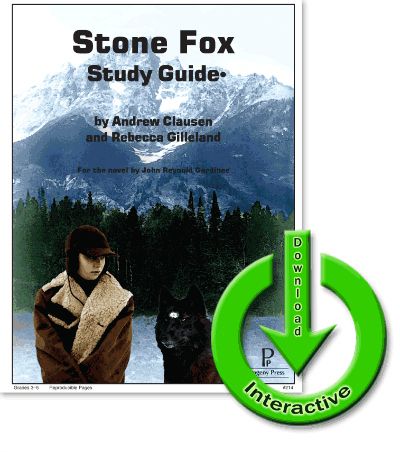 Stone Fox tells the story of a boy named Willy and his grandfather who live on a farm in Wyoming where they grow potatoes. One day Grandfather wakes up sick and can not get out of bed. After Willy fetches the Doc Smith so he can be examined, Willy finds out that there is nothing really wrong with Grandfather, just that he has given up on life because he fears he will lose his beloved farm for not paying backtaxes.
One day when Willy goes into town he sees a poster advertising about the National Dogsled Races with a prize of $500. Willy wants to do everything he can to help his Grandfather save the farm so Willy decides to enter the race with his dog, Searchlight, even though an Indian named Stone Fox, has also entered and has never lost.
We also received the accompanying interactive study guide with our review.  It has about 60 pages and includes a separate file with the answer key. The literature guide includes a wealth of information about Jackson, WY, the setting of the book as well as history of the Native Americans that lived in this region. With Bible work, map work, research ideas the guide ties into the story as a whole.
Stone Fox is recommended for kids in grades 3 through 6, roughly upper elementary. I read this book aloud to Montana, who is in the third grade. The suggested length of time for finishing a study guide is 8-10 weeks, however you can adjust this on your reading voracity. The first week is used to read the book and then each study guide takes the reader through two chapters of the novel at a time and focuses on several different literary concepts. Also included are several comprehension questions which ask the student to recall events from the book and analyze them. I love that each guide takes care to draw the student back to the Bible.
Check out the sample of the types of questions and information contained in the guides at the website. To make navigation on the website easier, literature guides are categorized by both genre and grade-level. The guides are extremely user-friendly and are currently available as a print version, CD in PDF format, and email as a PDF attachment.
We enjoyed our literature guide and have purchased and/or reviewed several guides in the past and will be purchasing more in the future. The new interactive format allows the student to type in the answers directly on their computer screen which is awesome! I also love that there is no limit on copying pages for use within our homeschool. Progeny Press Guides are economically priced from $10.99 to $27.99, Stone Fox sells for $17.99. Be sure to browse the online catalog for individual pricing on all the available guides. 
Our family finds that literature guides make reading even more enjoyable! We give this guide 2 thumbs up and I look forward to adding more literature guides to our collection over the course of the school year.
Be sure to check out what my Crewmates thought of this guide and the many other guides being reviewed, Sam the Minuteman, Miss Rumphius, Sarah, Plain and Tall, Stone Fox, Tuck Everlasting, Carry On, Mr. Bowditch, To Kill a Mockingbird and, Introduction to Poetry at this time by clicking the banner below.

Company ~ Progeny Press
Product ~ Stone Fox
Price ~ $17.99
Ages ~ Upper elementary, 3rd to 6th grade

©2008- 2015 A Stable Beginning. All rights reserved. All photographs, text, artwork, and other content may not be reproduced or transmitted in any form without the written permission of the author.
http://astablebeginning.com