Does your family like to watch good, quality family movies? If so, then I have a treat for you today. A few weeks ago we were given the opportunity to review the movie, Do You Believe? from FishFlix.com.
Whatever you do, work at it with all your heart, as working for the Lord, not for men.

~ Colossians 3:23-24
FishFlix.com is a family owned company by Lukas Media. The owner and staff believe that God is honored by hard work, good service and quality products. FishFlix.com is the most comprehensive online Christian video store featuring thousands of high quality Christian DVDs. Their mission is to bring you The Greatest Christian and Family-Friendly Films in the World at Great Prices. The website offers a wide selection of family friendly Christian videos, including entertaining movies, documentaries, biographies, educational films, and more. If you are looking for DVDs and Blu-Rays that the whole family can enjoy, FishFlix is the place to shop.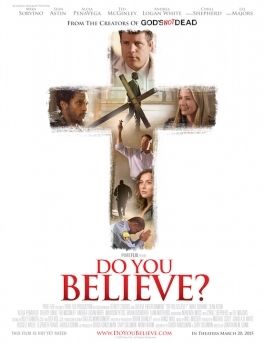 The movie begins with a power scene when a local pastor is shaken to the core by the visible faith of an old street-corner preacher when he asks him, "Do you Believe?". The pastor is reminded that true belief always requires action and takes that message back to his congregation to challenge his flock to take action.
And whatever you do, whether in word or deed, do it all in the name of the Lord Jesus, giving thanks to God the Father through him.

~ Colossians 3:17
Do You Believe tells the story of twelve individuals who are independently moving along their own daily paths, searching for meaning to their lives. Even though none of the twelve people believe in Christ, their lives all intersect in a way that brings them to the cross.
I watched this movie first and then watched it again with my husband and 14 year old daughter, Madison. This was a great movie that I recommend all watching. It is also from the creators of God's Not Dead movie if you saw that one. I would caution you to preview the movie first before having a young child, under 13, watch the movie with you. There are some scenes that are intense and while it does not specifically portray suicide a child would be able to pick up on the inference.
Overall, I think anyone looking for great quality Christian movies to check out the selection that FishFlix carries on their website. You will be sure to find something to watch and keep you entertained.
Be sure to click the banner below and see what my CrewMates thought of this movie,  Do You Believe? and the other ones being reviewed, including: Faith of Our Fathers, Little Boy, When Calls the Heart, Heart of the Family, Living Waters: Intelligent Design in the Oceans of the Earth.

Company ~ FishFlix.com
Product ~ Do You Believe?
Price ~ $10.99
Ages ~ PG - 13
Format ~ DVD

©2008- 2015 A Stable Beginning. All rights reserved. All photographs, text, artwork, and other content may not be reproduced or transmitted in any form without the written permission of the author.
http://astablebeginning.com