We have a huge arsenal of games in our house. I love to be able to play a game and sneak in learning at the same time for the girls. It's always fun when the creators at SimplyFun offer one of their games for review and this time was no exception to the fun when we received the game Shape Whiz six weeks ago.
The team of "Playologists" at SimplyFun make play an important part of academic, social, and emotional skill development for children. With over 90 award-winning educational  board games and puzzles for children aged 3 to 103 there is sure to be a game just perfect for your family to play in just 30 minutes or less. Perfect for those busy families to slow down and make some memories playing games.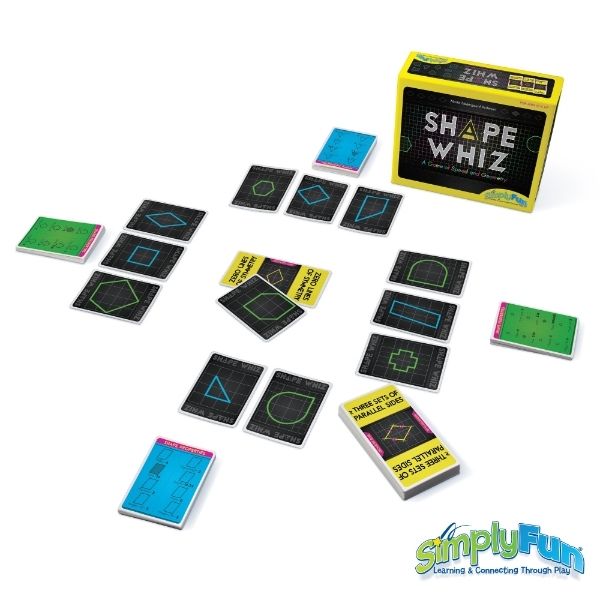 The game of Shape Whiz is all about mastering the principles of geometry and is recommended for ages 10+. 2D geometry and shape measurements are some of the concepts used in this game. Using speed and your knowledge of geometry to solve the clues given, be the first player to find the Shape Card to solve the Whiz Card question.  Clues are given and you are to try and find the shape described faster than your opponents. This game is intended for 2-5 players. In our package from SimplyFun we received the Shape Whiz game box and a set of game rules.
Setting up to play this game is as simple as three easy steps
1. Shuffle all the Whiz cards
2. Choose from two levels of difficulty you would like to play.
3. Game play starts as players flip over the cards and begin to play.
I played this game with Madison and Mikayla while my other daughters looked on. Mikayla is not quite ready for geometry but it is good for her to see and hear the shapes and terms. We primarily used the blue cards during our playing times and took things nice and slow each time. Which was great for me too since Geometry was never my strong point in math.
Overall, we give this game two thumbs up! If your family enjoys playing games this would be a great addition to your game cabinet. Not only do you get to spend some quality family time, but also you get learning snuck in too. I definitely see our family playing this game for many more years, especially as we start to navigate the world of Geometry again.
Be sure to check out what my CrewMates thought of this game and the other game being reviewed, Expanders, by clicking the banner below. SimplyFun is also offering my readers  a discount code of 15% off of your first purchase for any game on their site. Be sure to click over and check out all the wonderful games they have for learning in disguise. {use the code SHREVIEW at checkout by July 31, 2015}

Company ~ SimplyFun
Product ~ Shape Whiz
Price ~ $24.00
Ages ~ 10 and up


©2008- 2015 A Stable Beginning. All rights reserved. All photographs, text, artwork, and other content may not be reproduced or transmitted in any form without the written permission of the author. http://astablebeginning.com