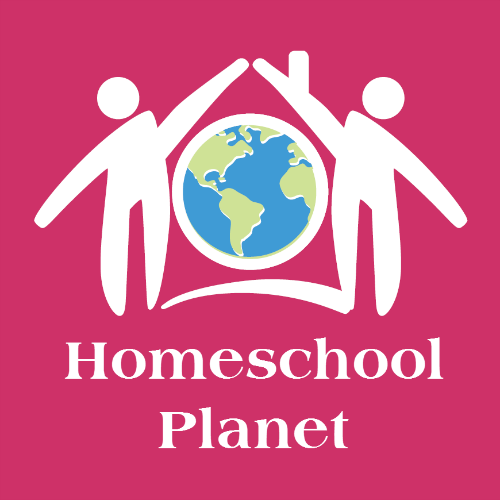 I try really hard to keep everything organized so that everyone can get where they need to be at the prescribed time. Yes, sometimes it's overwhelming and I fail miserably, but hey, I am human.
Wouldn't it be great to have something to help you keep track of everything in your busy life such as homeschooling, housework, activitites and more? For the past 6 weeks I have been testing out a little gem called Homeschool Planet from Homeschool Buyers Co-op.
Now, I hope I am not the only one who thought that Homeschool Buyers Co-op was just for buying curriculum at a great price? Homeschool Planet gives you all the tools you need to organize your home and homeschool so you are running in tip top shape with there online planner.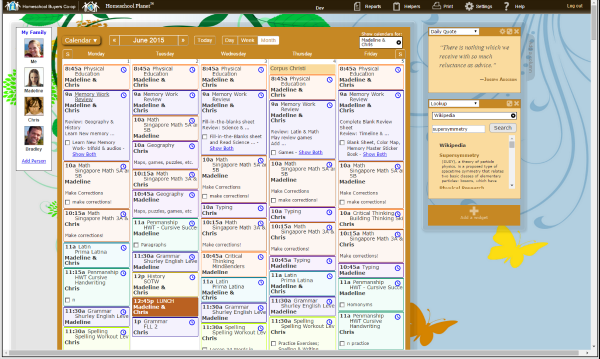 To get started is as simple as having a computer with internet access. Once you create a free account on the Homeschool Buyers Co-op page you can sign up for a free 30 day trial and no credit card is needed! How great is that!
This planner packs a big punch with all the features it has to offer! Let me tell you about three of my favorite features.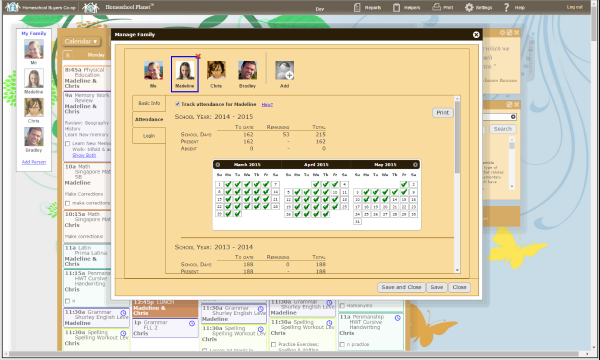 The attendance tracker is a great feature that allows you to not only track the days you school, but also mark off any other days that are holidays, etc. Since we school 6 weeks on, 1 week off this was a great feature so I could see at a glance when the break week fell on the calendar.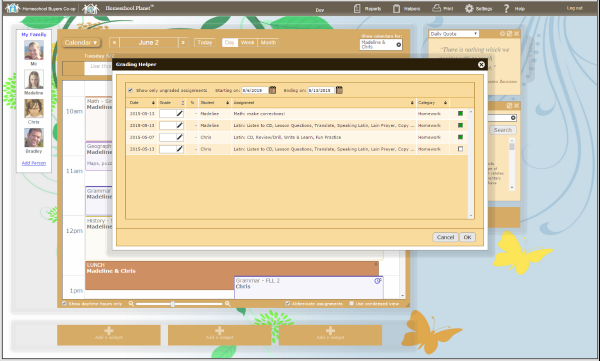 Grade Helper is a life saver! This feature lets you track your child's grades in each subject. This is the main area where I struggle to keep up in our homeschool. I am confident that I will be better prepared to do so this year with this feature.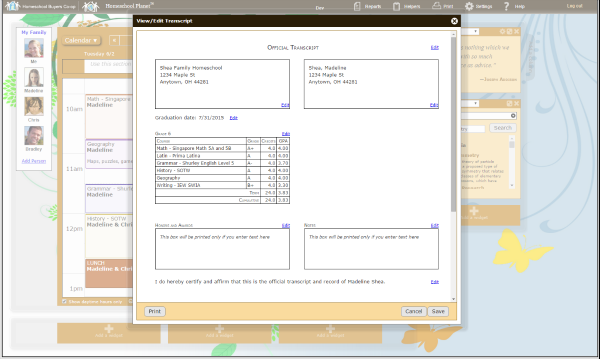 I am definitely going to utilize the Transcript feature, especially since we are heading back through the high school cycle with Madison. With Marie I waited too long to start her transcript and it was quite overwhelming to input 3 years worth of classes and grades. This transcript can be printed out if you need to turn it in.
While this is not our "busy" season, I do really appreciate this planner and all that it offers. Before getting a chance to review this planner I would have told you I was strictly a paper planner gal, but now I can definitely say I Love this online planner! It has simplified my life and allows me to keep on task and on schedule of where everyone needs to be. I love that the girls can log on and see at a glance what is happening for the day too.
Even if you are a paper planner, I would wholeheartedly recommend you checking out this program. They offer a free trial so you can't go wrong. Try it out and see how you like it, don't just take my word for it. And be sure to check out what my CrewMates thought of this program by clicking the banner below.

Company ~ Homeschool Buyers Co-op
Product ~ Homeschool Planet
Ages ~ Household managers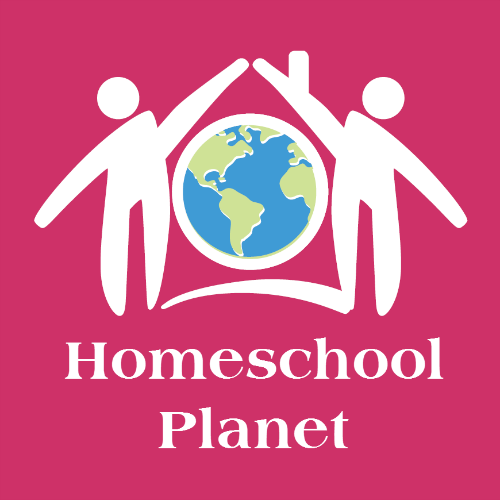 ©2008- 2015 A Stable Beginning. All rights reserved. All photographs, text, artwork, and other content may not be reproduced or transmitted in any form without the written permission of the author. http://astablebeginning.com