This school year I have been blessed with having a Senior and a new baby. Yes, these two and the four children in between are a huge blessing to me! But let's be perfectly honest here… Sometimes it is downright crazy around here. Running here and there and making sure this and that gets done for college applications to nursing a hungry boy several times a day, not to mention schooling and feeding everyone. I was so happy when an opportunity came up for me to review Preschoolers and Peace: Homeschooling older kids with success while loving the little ones at your feet from Kendra Fletcher at Preschoolers and Peace.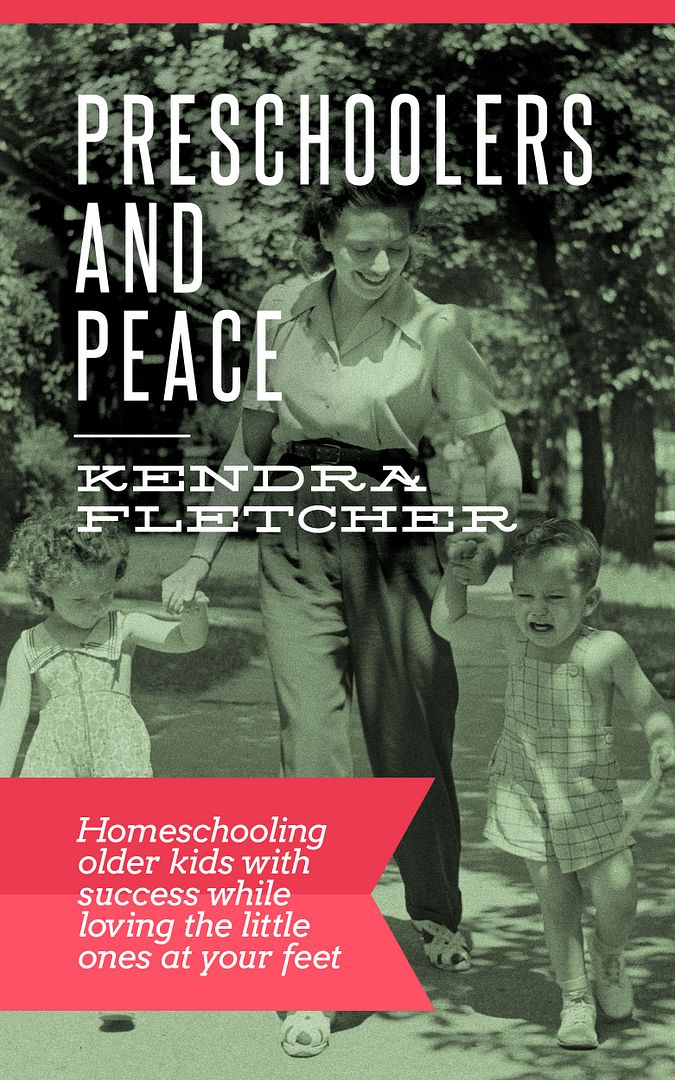 So, do you have a preschooler?
Since we have been homeschooling we have had a preschooler in the mix. Sometimes it can be challenging to homeschool with the little ones underfoot but this new eBook from Kendra helps you learn to manage your day before the preschooler starts running the show.
Preschoolers and Peace is an easy to read, the "best of" tips and topics from the website compiled into a nice 40+ page eBook. It is jam packed with a ton of helpful information to help us homeschooling moms keep the little ones busy while homeschooling older siblings.
With chapters like the ones listed below, there are so much for everyone to get something out of this book.
~ What a Homeschooling Mom Needs
~ Preparing Yourself to Homeschool Older Kids With Little Ones Underfoot
~ Planning Around Preschoolers
~ How Do I Keep Them Busy?
~ What Does a 2-Year-Old's Day Look Like?
~ How Do I Get Any Preschooling Done?
~ How Not to Just Kill Time
~ Circle Time: Or How We Pull the Little Ones In
~ Preschool Boys
~ When All of Your Kiddos Are Preschoolers
~ Preschool Chores
~ Planning for Preschool
~ When Mama is Worn Out (or Pregnant)
~ Meal Planning 101
For just $2.99 you get all 14 chapters above in eBook, PDF format. There is also an extensive resource list included that gives you further reading topics and also tells about some products that the Fletcher's have loved using in their home. Even if you don't have a preschooler, the last chapter on meal planning is helpful to all families.
My favorite chapter in this eBook has to be the second chapter on Preparing Yourself to Homeschool Older Kids With Little Ones Underfoot, because it focuses on prayer. I have found that on days that I don't get my time in with the Lord, my life is extra crazy and just does not go the way it should. I enjoyed the idea of creating prayer binders and tracing your child's handprint onto a piece of paper. Inside the hand write the thing you want to pray about for your child. It's the simple and cute ideas like that that make this eBook a gem!
With so many ways and ideas to help keep your little preschooler busy, its hard not to recommend this book! I have really enjoyed this eBook and can not wait to use more of the principles inside it when Micah is bigger.
Be sure to check out what my Crewmates thought of this eBook by clicking the banner below.

Company ~ Preschoolers and Peace
Product ~ Preschoolers and Peace: Homeschooling older kids with success while loving the little ones at your feet
Price ~ $2.99
Ages ~  For moms