American history is my favorite time periods to study. Learning all about how this great nation of ours was founded and what it stands for is so exciting. For that reason I was so excited when I found out we were selected to receive a DVD called Anthem for a Nation produced by New Liberty Videos.
New Liberty Videos was founded by an amazing husband and wife team of Brian and Marilyn Barkley. Mr. Barkley is no stranger in the motion picture business and has been involved in producing for 40+ years.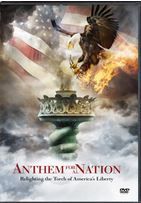 Anthem for a Nation is a new 42 minute documentary released in January 2014 that showcases all of the qualities that made America the great country she is. However, in order to preserve this great country of ours for our children and future grandchildren we must as a nation re-instill the values that we were founded upon.
…dedicated to the freedom-loving Americans everywhere with the prayer that God will raise up in our day a new generation of men, women and young people who will walk with Him and are committed, whatever the cost, to see His righteousness restored in the hearts, homes and institutions of America.
The DVD begins as you take a virtual tour of our great country and hear the words of the Declaration of Independence, along with patriotic songs. Featuring 10 "scenes" or chapters, including:
Opening

America the Beautiful

One Nation Under God

A Christian Nation

A Nation Adrift

The War on the Unborn Child

Have They Died in Vain

America You're Too Young to Die

The Rebirth of America

God Bless the USA
There are also two special features at the end of the program also. 
The story of Hanzi (Maria Anne Hirschmann) who tells of her life in Nazi occupied Czechoslovakia.
The story of Kitty Werthmann who grew up in Austria under Hitler's regime.
The video showcases the Christian principles that our great nation was founded upon along with highlighting where we as a nation have miss-stepped on such topics as abortion and Bibles in public schools. While this video is approved for General audiences, I would suggest previewing it yourself  if you have younger children. You can purchase this video for $19.95 for one DVD.
I suggest checking out the free two minute preview that can be found here on YouTube. To be quite honest this preview had moved me to tears when I watched it.  Once the DVD arrived at our home I watched it when the house was quiet.  Marie  currently taking a U.S. Government course while Madison is studying an in-depth look at American History. So this video was perfect for the both of them to watch. While, we didn't do anything fancy, per se, we watched the video together, the three of us and had an open discussion of some of the topics. It was great that the parts that showed D.C. the girls remembered going there to visit last summer.
Overall, I think this is an excellent video that tells of what a great country we have and how we as a nation can get back to what the founders  originally planned for it to be. I really think you, the reader, should check out the preview and then get your hands on a copy of this documentary. I can't wait to watch it again with my younger children when they are a bit older. I am eager to check out some of the other DVD's produced by New Liberty Videos too.
Be sure to check out what my Crewmates thought of this video and the other five videos being reviewed, The Forbidden Book, Mysteries of the Dead Sea Scrolls, A Nation Adrift, Teaching Origins Objectively, and Warriors of Honor, by clicking the banner below.

Company ~ New Liberty Videos
Product ~ Anthem for a Nation
Price ~ $19.95
Ages ~ General audiences, but use parental discretion for your family