Science doesn't have to be the same old boring subject day in and day out. It can be supercharged and exciting when you find the right program that fits your needs. That's what I have found science to be this year as we have received a six month subscription for Supercharged Science for the full program K-12th. Supercharged Science's e-Science Premium Membership is an online science program complete with over 1000 activities and experiments to do in all science categories, including Earth Science and Advanced Astronomy.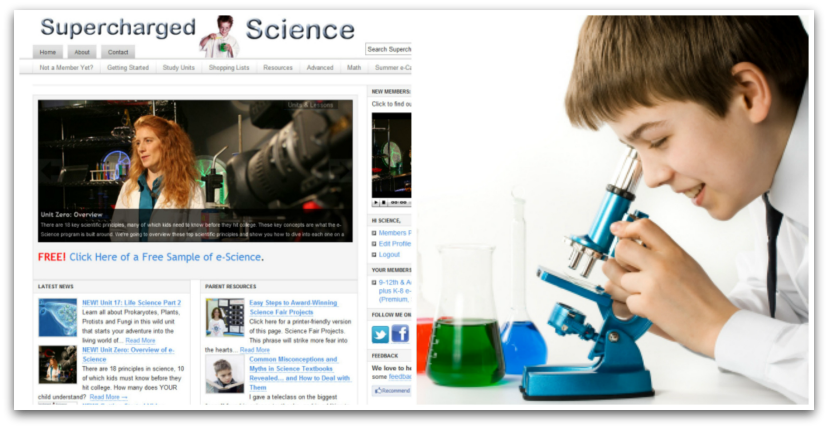 Supercharged Science was started by Al and Aurora Lipper 10 years ago with the mission of improving the way kids learn science. Aurora is an accomplished Rocket Scientist who received her Master's Degree in Mechanical Engineering from Cal-Poly State University and went on to become one the youngest instructors in engineering at Cal-Poly State University. Pretty impressive!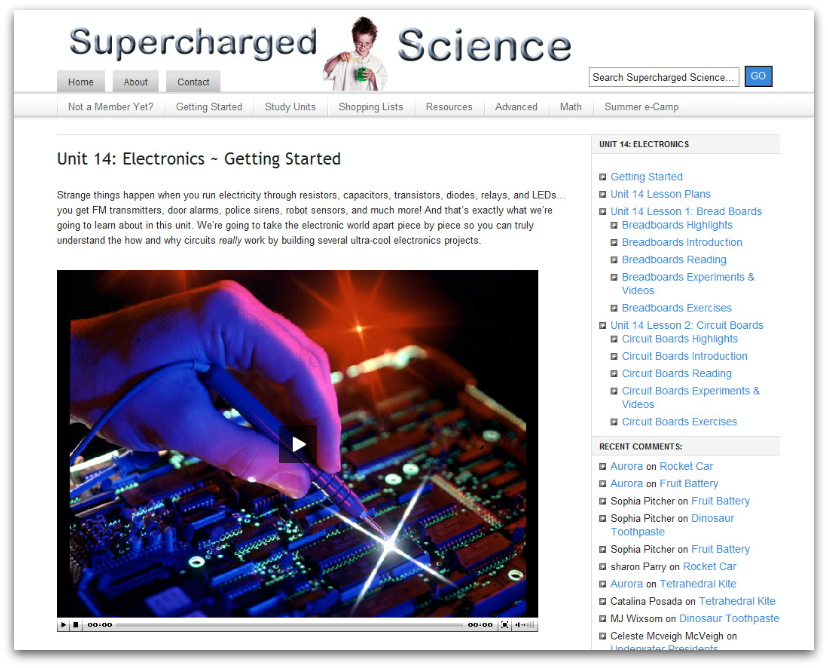 With over 1,000 videos on hundreds of science topics, the              e-Science Premium Membership guides kids step-by-step through hands-on activities, projects and experiments. The lessons in the e-Science program are formatted so that children actually DO the lesson and discover on their own, rather than watching someone else do them.
With multiple ways to use the program, you can use it as:
~ as a stand alone K-12 unit study. Check out this page and find out what units are offered.
~ use the program concurrently with your favorite science curriculum. A handy  conversion chart is provided to help you combine e-Science with many of the popular science programs out there including Apologia, Considering God's Creation, REAL Science, God's Design, Bob Jones, A Beka and more!
~ as a delight directed approach show your child the list of topics and let them choose what interests them most.
The e-Science programs includes:
Access to self-guided lessons that kids can complete on their own
Detailed video instruction taught by a real Rocket Scientist
Step by step videos to show how the experiment is to be done
Comprehensive parent/teacher guides
Textbook readings
Exceeds most K-8th State Standards
Exercises and Quizzes
Unlimited support for teachers and students
Want to know the best part about Supercharged Science?
The eScience program does not cover creation or evolution so ALL families can participate with our programs.
By focusing on the how's and why's of things they just teach Science!!!
We used the program as a unit study/delight directed study focusing on Madison, my future scientist. This year science for Madison has been a challenge. We first tried to complete General Science and  it was a struggle for her to do it because she had already been exposed to the information many times over. When boredom set in it was like pulling teeth just to get through the subject.
This review came just in the nick of time! I asked Madison which unit she wanted to start with and we took off from there. It is as easy as printing off the unit PDF files and watching the corresponding video.  We found that watching the experiment first was more beneficial for Madison and then she started digging into the learning the how and why's to the experiment.
The Supercharged e-Science program is a complete online curriculum for children in grades K-12 and retails for $57.00 Initially, when looking at the program the price is what kept me away, however, after reviewing and using this program I can confidently say it is worth every single penny! If you are looking to get your children riled up for science this is the program you need. Want a special deal? Supercharged Science e-Science curriculum wants to give my readers access to some of the amazing sample experiments the program has to offer for just $1.00! Yes, you read that right, $1.00. Head right over to Supercharged Science and check out their "Super"e-Science Premium Membership. You won't be disappointed!
Overall, we have truly enjoyed this program and I will continue to use it once our subscription runs out. I truly think it is worth every penny and a true asset to our homeschool. Be sure to check out what my Crewmates thought of this program by clicking the banner below.

Company ~ Supercharged Science
Product ~ e-Science Premium Membership
Price ~ K-12th $57.00 a month
Ages ~ K-12

Facebook
Twitter
YouTube
Pinterest
Google +
Blog