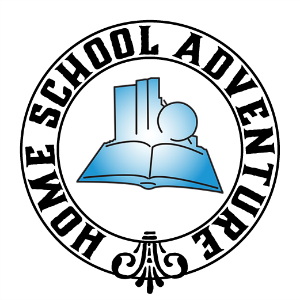 Hiding God's word within our hearts is really important. That way in times of need or crisis you can call upon those verses and know that God is with you. Home School Adventure Co.  offers an easy and pleasurable way to memorize the entire book of Philippians with their Philippians in 28 Weeks study.
Home School Adventure Co. produces and designs resources to equip and inspire parents to raise and educate children who are loving, compassionate, strong, and wise. Six weeks ago we were blessed to receive the PDF eBook of  Phillippians in 28 weeks study to use within our homeschool.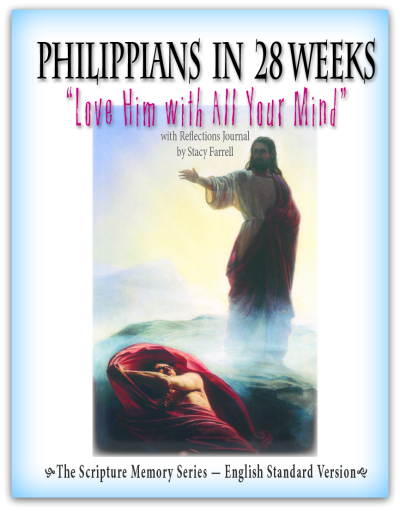 It is easier to share God's word with others if it is etched within your heart. With just 5 simple steps you and your family will be well on there way to memorizing the entire book of Phillippians in just 28 weeks when you:
Read ~ the book everyday. Whether you read the Bible or from your memory cards the mind automatically starts to retain and remember what you have read.
Record ~ your thoughts in the included journal. Inside the journal you will find space to for copywork of the verses along with space to write out or discuss the questions listed under the Reflections section. At the end of the week complete the summary as you have allowed the verses to penetrate your heart, mind, and soul.
Repeat ~ the verses many times throughout the day. If you have a few minutes of quite during the day bring out your cards and say the verses aloud or to yourself.
Review ~ at the end of the week be sure to recite the verses you have been working on up to that point from memory.
Recite ~ all the verses you have memorized thus far at the beginning of each week with the included recitation charts. Every few weeks you can take a review week and have someone grade you on your progress.
Philippians in 28 Weeks is geared towards children ages 9- 11 years when used as a read aloud or during family Bible time. Ages 12 and up can use this with parental guidance, and  high school students are able to do this course on their own. While there is a grading option set up in the program, it is not necessary to grade as your main goal for this program is to "Love Him with all your mind" and  be accountable in your studies.
This study is economically priced at just $28.95 for a printed copy of the study. A digital PDF  download is also available for just $14.95. Either format is available in KJV or ESV. Also available are memory cards for just $9.95.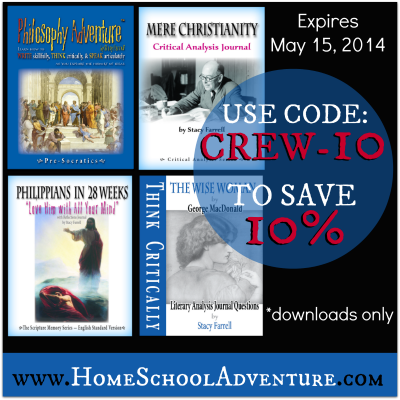 When the product arrived in our email box I downloaded it and immediately printed off the Chapter One sheets, the memory cards and log, making enough copies for my three older daughters and myself. Chapter One takes six weeks to complete and while my oldest daughter, Marie (17) and I found it easy to read through the entire book of Philippians each day my younger two daughters, Madison (13) and Mikayla (11) struggled to read the entire book to themselves each day. After about three days I ended up modifying the way we completed the study buy just reading the verses for the week we were on aloud to them. With each week I built upon our reading so that they were still getting exposed to the words and helping them to remember the verses.
I have truly enjoyed this Bible study from Home School Adventure Co. and even though the review period for this product has come to an end I plan on continuing to use this in our daily Bible devotions so that we may hide this entire book to our memory. Some of my girls did not appreciate all the copywork that was involved in this study even though we incorporate copywork into our daily schooling for other subjects. As a "box checker" I really liked the log and how it was set up to keep us on track with our studies. The reflection questions were a great tool too, as it allowed us to dig a little deeper into God's word to really take heart to what the message is He is trying to get across.
If you are looking for a memorization study for your own personal use or as a family devotion I wholeheartedly recommend Philippians in 28 Weeks from the Home School Adventure Co.. Be sure to check out what my Crewmates thought of this program and also the other items being review, Philosophy Adventure, Mere Christianity Journal, and The Wise Woman with Literary Analysis Journal Questions by clicking on the banner below.

Company ~ Home School Adventure Co.

Product ~ Philippians in 28 Weeks (ESV)

Price ~ Available in KJV and ESV print $28.95  ebook $14.95 memory cards alone $9.95
Ages ~ For read aloud and discussion as a family: ages 9-11. For ages 12 and up, also great for family discussion and/or parental/teacher guidance. High schoolers can do this on their own.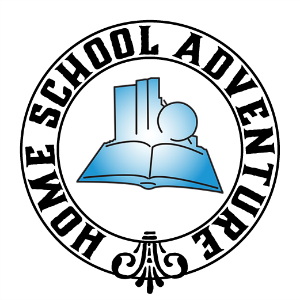 Other products being reviewed by the TOS Crew:
Philosophy Adventure
Mere Christianity Journal
The Wise Woman with Literary Analysis Journal Questions