I am in the process of teaching my third child, McKenzie (4) how to read. While every child is different in this journey its always great to have a program like the Logic of English and their Foundations A program.
The Logic of English offers an unique approach to teaching reading instruction. It is based on the fact that 98% of all English words can be understood if the student learns the 74 basic phonograms and 30 spelling rules.  How cool is that?! The Logic of English teaches reading, writing and spelling through a multisensory approach through activities. The Logic of English program can be used with learners of every kind. From beginner readers to dyslexic readers or for students just learning to read if English is not their first language.
We received the Foundations A program to use with McKenzie. It includes a teacher's manual, student workbook, manuscript tactile cards, manuscript handwriting chart, manuscript card games, phonogram flash cards, and a student whiteboard. With all these goodies your child will have :
40 Lessons plus 8 assessments and review lessons
6 Student readers which develop true reading comprehension skills as opposed to the typical readers at this level which encourage students to "picture read"
22 Phonemic Awareness Games
28 Phonogram Games
10 Reading Comprehension Games
2 High Frequency Word Games
McKenzie and I were able to use the Foundations program 2 days a week. After reading through the teachers manual I decided to take the lessons slow because she is still young. While she is a very eager learner I do not want to push her too hard and burn her out. So, we completed 1 lesson a week with lots of review on the other days. One of the best parts of the program that she enjoyed other than the whiteboard was the Phonogram App that we were also given for this review. It offered reinforcement of what she was already learning in a fun iPad app. The app allows students to HEAR the sound, SEE the phonogram, and TOUCH the matching card. With10 guided levels your child will have fun learning and matching the flashcards.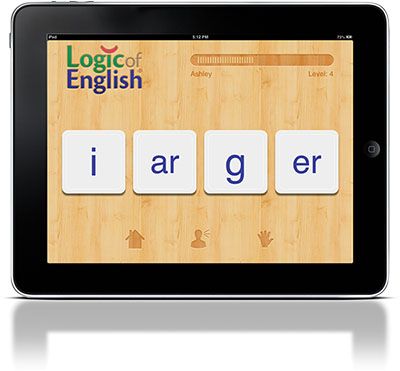 Overall, I highly recommend checking out the Logic of English if you have a new reader or a struggling reader. We have had great success using it with McKenzie over the last 6 weeks. She is learning her sounds and blends each week and getting more and more confident as each day passes. Be sure to check out what my Crewmates thought of this program and the other products reviewed by clicking the banner below.

Company ~ Logic of English
Product ~ Foundations A
Price ~ teachers manual $34.20, Student workbook $16.20