So I am not one to turn down a book, especially a good book like the one we were sent from Greene Bark Press called Look Left, Look Right, Look Left Again.
Greene Bark Press is a small family-owned children's book publishing company based out of Connecticut. Established in 1991, the company strives to publish and distribute only those books and materials in which the company feels are original, imaginative, and colorful and those materials that have some value to add to the learning process and growth of young readers. Greene Bark Press also sells and distributes educational toys and games from well known, reputable companies such as Melissa & Doug, Fisher-Price, International Playthings, and WJ Fantasy.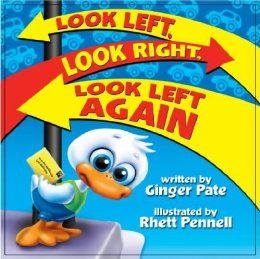 Written by Ginger Pate and illustrated by Rhett Ransom Pennell this board book will help your children learn the rules for crossing the street safely. With the help of Wally Waddlewater, the duck, who wants to mail his Grandmother a birthday card he first has to learn how to cross the street. Wally teaches your child the proper way to look before walking across the street.
Look left, look right and make sure the cars are out of sight. Then remember to look left again.
Easy peasy and pretty simple for any child aged 2 to 8. For just $8.50 plus shipping and handling you can have this little gem of a book for your children too.
The best part of this review is that the book is just perfect for McKenzie who just turned 4. She is a small extra petite little girl who wants to keep up with the big girls when we are outside playing or riding bikes. Only thing is she thinks she 12. Not such a good thing for me who worries that she is going to get run over.
This book arrived to us at the perfect time as the weather is cooling down and we will once again be having daily recess with our other homeschool neighbors. McKenzie loves the main character, Wally Waddlewater! Right away she was looking at the book and really into the pictures. I think we have read this book over 75 times within the last 6 weeks. Which in the long run is not a bad idea because this book teaches your child a very important safety lesson, how to cross the street.
This is one book that will be staying on our bookshelves for many years to come. I think it would make the perfect gift too. Make sure you check it out and fall in love with Wally yourself. Be sure to check out what my Crewmates thought of this book by clicking the banner below.

Company ~ Greene Bark Press
Product ~ Look Left, Look Right, Look Left Again
Price ~ $8.50 plus shipping & handling
Ages ~ 2 to 8 years old
Format ~ board book