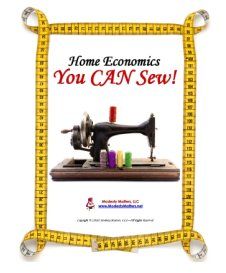 As a mother of 5 daughters let me tell  you that Modesty Matters to me! And I can tell you that it matters to the Lt. too. When my older 3 girls were little I loved to dress them similarly. I had dreams and visions of sewing them all in matching handmade Easter dresses. Yes, my dreams have not come true, yet! With the help of Modesty Matters I am hoping to change that. 
Now, I have been known to see a little bit but nothing as big as a dress! The girls have dabbled in sewing but have never really sewn anything big either. When the review was offered for Modesty Matters I knew I wanted in on this review and was pleasantly surprised when we were chosen for their comprehensive "You CAN Sew" program.
No previous sewing experience is required by either the student of the parent.

                                                                                      ~ excerpt from box
The "you CAN sew" program is designed to teach you the basic skills to sew three simple projects including a simple apron, a simple skirt or slip, and an A-Line dress or nightgown.  With 65 detailed lesson plans on five instructional DVDs the instructor walks the student through the sewing basics. Step-by-step instructions are provided to help the student learn to properly thread his or her machine as well as teaching you to  set the correct thread tension. A separate CD with 5 exclusive patterns is also provided to get you sewing. From learning to choose the appropriate fabric to  reading a pattern and what kind of stitch to use the "you CAN sew" program has you covered.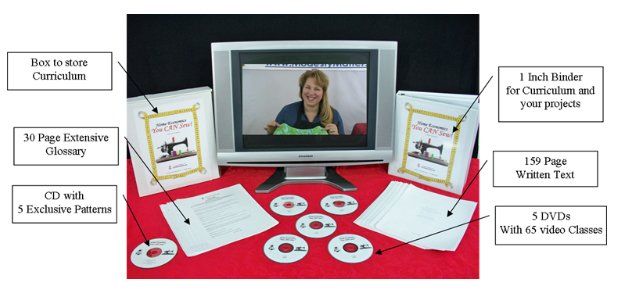 The "You CAN Sew" program retails for $159.95 and is recommended for ages 10 and up. It is intended to be a 12 week video sewing course and includes:
5 DVDs with 65 class videos
159 page written text  with an extensive 30 page glossary
CD with 5 exclusive patterns
sturdy cardboard box in which to keep your supplies in
We used this program 2-3 times a week as we had time and the girls learned the basics of the sewing machine and basic stitches. Primarily it was Madison who had interest in learning to sew as Marie already knows the ins and outs of sewing. Madison and Mikayla were able to sew a simple apron together (that is turned inside out because it is someone's Christmas gift this year). Madison also started on her simple skirt, however I think it is a bit too long so we need to take it in a bit. It was great fun and bonding time and I look forward to doing more projects with her in the future.
If you or your child has a desire to learn to sew this is the program for you! It is very through and supplies all the knowledge you need to complete the required projects. And as a plus you will come out with the confidence to sew anything! I definitely recommend this program to anyone, male (they have optional projects for males to sew) or female who have a desire to sew. I definitely want to check out the quilting program after the beginning of the year when  we have finished the projects in this program. Be sure to click the banner below and read the reviews of my Crewmates too.
Company ~ Modesty Matters
Product ~ "You CAN Sew"
Price ~ $159.95
Ages ~ 10 and up

DISCLAIMER: I received the "You CAN Sew" program from Modesty Matters, in exchange for a thorough and honest review. Though I am compensated with free products, I am not compensated in the form of cash for my reviews. The opinions I have given are mine and may differ from others but are not influenced by the company or the free product provided.