Institute for Excellence in Writing is a well known company in the homeschool world. You may think that IEW is only for older students, as I did, but let me tell you about an amazing program they have have the younger kiddos. This incredible program I am speaking about is called PAL, or Primary Arts of Language.
PAL is geared towards the younger students in grades K-2 and is broken down into two core components, Primary Arts of Reading and Primary Arts of Writing. Although they are sold separately, the two programs should be completed concurrently.
Using poetry, the reading portion of the Primary Arts of Language teaches phonics and whole words. Students are introduced to letters through letter stories and discover the vowel and consonant pairs that help us read. Daily games played during "Activity Time" reinforce the phonetic concepts so that a student can know them completely.                                                          ~ from website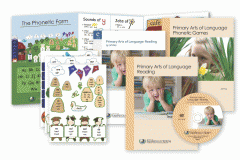 Primary Arts of Reading is a complete package that includes an instructional  DVD, which is narrated by the lovely Jill Pike. Mrs. Pike walks you through the whole set up process and holds your hand as you begin this great educational journey. Also included are a teacher's manual, a DVD-ROM that includes all the students eBooks, Phonetic games book, Phonetic Farm with included stickers and helpful MP3 recordings. This portion of the program retails for $89.00.
The writing portion is divided into three parts: printing, copy work, and composition. Spelling is included throughout the course. The printing section provides an entire handwriting program to teach your student how to correctly form his letters. The copy work exercises will make printing automatic in preparation for the composition lessons, which will gently teach your student to write stories and paragraphs with style.                                    ~ from website
Primary Arts of Writing is also a complete package that includes an instructional DVD, teacher's manual, DVD-ROM that includes all the student eBooks, All About Spelling Basic Interactive Kit, and the All About Spelling Level 1. This portion of the program retails for $89.00.
WOW! That is a lot of good stuff, right!?! Now, I have to admit when the box arrived and I took out all the goodies I was completely overwhelmed and did not know where to start. That is where the instructional video comes into play. Pop that DVD into your computer and sit back and learn as Mrs. Pike guides you on how to implement the lessons for your student. I will say I am especially glad that IEW packages the components of PAL in Ziploc bags. My box was rather beat up and torn and we had been having a lot of rain. The Ziploc bags protected the materials and for that I am grateful!
This is not an open and go program. There is a lot of planning that needs to be done ahead of time for the teacher to make
things run smoothly. I spend the weekend planning what games we will play and then constructing them so they are ready to go. Mrs. Pike encourages you to keep the lessons short and snappy, which works great with little one's attention spans. A suggested schedule is included and we followed those suggestions in our studies that ranged from 1 hr 45 minutes to 2 hours of learning depending on our speed.
I am currently using this program with Montana, however McKenzie does like to try and play some of the games with us. I have seen great results and confidence in her reading since starting to use this program.  That makes this Momma happy! Like I said before, PAL is a teacher intensive program but well worth the amount of time needed for prep work in my book. This is an excellent program and our family will get many years out of it. We highly recommend checking it out for your little ones too. If my review was not enough to convince you to check this out for your family be sure to read what my Crewmates thought about this program by clicking the banner below.

Company ~ Institute for Excellence in Writing
Product ~ Primary Arts of Language
Price ~ Reading $69.00 ; Writing $89.00
Ages ~ K-2

DISCLAIMER: I received the Primary Arts of Language Reading and Writing program from Institute for Excellence in Writing, in exchange for a thorough and honest review. Though I am compensated with free products, I am not compensated in the form of cash for my reviews. The opinions I have given are mine and may differ from others but are not influenced by the company or the free product provided.