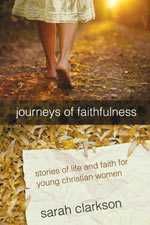 Apologia has done it again, from there award winning science books to books on faith our family has not been disappointed.  Sarah Clarkson's new book Journeys to Faithfulness takes the reader through a series of stories about the great biblical women Mary, Martha, Ruth, and Esther.
…explores their paths of faith while challenging today's young woman to reach higher and go deeper in her relationship with Jesus Christ by choosing well and staying the course in her walk with God.

                                                                                                           ~ book cover
In Journeys of Faithfulness, Ms. Clarkson  challenges young women to explore and deepen their relationship with Christ through journaling and devotionals. Every story gives a historical fiction account of each one  of these great women of the Bible. Experience the powerful love of Christ as you explore the feelings of loneliness and loss through your study of the  life of Mary, sister of Martha and Lazarus. Accompany  Mary, the mother of Jesus, in the midst of ever-changing circumstances that show how she keeps her faith and relies on God. Observe the testimonies of Esther and Ruth as God rewards their sacrifices of faith. Including all the details we  know from Biblical stories while adding her own insights, the  author gives us a glimpse of what the characters might have felt at that moment and/or how they may have been personally affected by the series of events.
This book retails for $13.00 and is recommended for girls ages 12 and up but I suggest you purchase two copies because if you are like me you will find you take over the book. I have thoroughly enjoyed reading this book and I like how even though the stories are enhanced with the author's insights, if you have a knowledge of the stories you will be blessed even more. I definitely recommend this book and suggest you put it on your reading list. I will be purchasing two copies of this book to give to my two older girls at Christmas. Be sure to check out what my Crewmates thought of this book by clicking on the banner below.

Company ~ Apologia
Product ~ Journeys of Faithfulness
Price ~ $13.00
Ages ~12 and up

DISCLAIMER: I received the the book Journeys of Faithfulness from Apologia, in exchange for a thorough and honest review. Though I am compensated with free products, I am not compensated in the form of cash for my reviews. The opinions I have given are mine and may differ from others but are not influenced by the company or the free product provided.