Montana loves Penguins just as much as she loves Cheetahs. When I heard about a review opportunity from Marshall Publishing Inc. I jumped at the chance to be on this review. The hard part was choosing one DVD set as they had so many great ones to choose from.
Marshal Publishing's number one goal is to "provide lots and lots of media fun for everyone through award-winning DVDs, Books, CDs, CD-roms, and broadcast and internet programming that will amaze, amuse, entertain, and educate". (from website) Marshall Publishing offers many educational videos including there Lots & Lots of series with everything from jets and planes, trucks, rockets, and dolphins and more! They also have a selection of award-winning historical, documentary, and educational DVDs. 
We received the Lots &Lots of Playful Penguins and Their Toe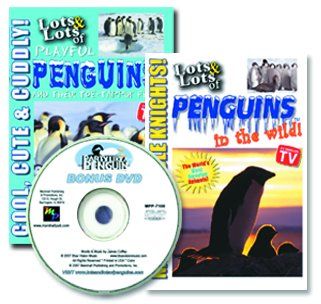 Tappin' Feet!, Lots & Lots of Penguins in the Wild!, and a special bonus DVD called Party Like a Penguin. This DVD set is normally priced at $39.90, but right now it can be purchased for just $19.95 on the Marshall Publishing site. When you use the promotion code TOS27 you will qualify for FREE SHIPPING!
In our family we only watch TV on the weekends and only selected shows. For these DVDs I made an exception to the rule because they would keep " littles" busy and entertained  while I was working with the older girls during school. Montana and McKenzie LOVE these DVDs!
Everybody loves animals especially, Penguins and their toe-tapping happy feet! These entertainment and educational DVDs will bring hours and hours of video fun for everyone! There's fun sing along songs by children's musician and songwriter, James Coffey along with some of the most incredible video footage of penguins ever captured on camera. All 17 species of Penguins can be found on these DVDs and they are perfect for homeschool teaching too!  ~Marshall Publishing website
Lots & Lots of Playful Penguins and Their Toe Tappin' Feet! is 75 minutes long and jam packed with great info on the 17 different species of penguins and how they live in their natural habitats. The girls liked mimicking each of the Penguins calls and cries. A cartoon penguin pops up every few minutes and gives you further details and/or where you are headed next. In Volume 2, Lots & Lots of Penguins in the Wild! take a 50 minute up-close and personal look as the camera man travels into the wild of Antarctica, Australia and other penguin habitats in the Southern Hemisphere. Journey into the untamed world of penguins and catch them building nests and habitats, nurturing their babies, playing and swimming, and moving around penguin waddle style and so much more. There is also a handy study guide that can be found here. I choose not to use this because I primarily used these DVDs with my little girls, aged 6 & 3.
Overall, we really enjoyed these DVDs and had so much fun learning about the different species. Who knew there was a King Pin Penguin nearly as tall as me or the micro penguins that are really, really tiny. We wholeheartedly recommend these DVDs for hours of educational fun. We will definitely continue using these DVDs and adding more to our collection. Check out what my Crewmates thought of these DVDs along with the other titles reviewed including The History of the Oregon Trail &The Pony Express, The Historic Expedition of Lewis and Clark – We Proceed On!, and The History of America in the 1880′s – A Decade of Progress by clicking the banner below.

Company ~ Marshall Publishing, Inc.
Product ~ Lots & Lots of Penguins and Their Toe Tappin' Feet! and Lots & Lots of Penguins in the Wild!
Price ~ Normally $39.90 but currently on sale for $19.95. Use promo code TOS27 for free shipping
 Ages ~ 3 – 99 years old

DISCLAIMER: I received the Lots & Lots of Penguins DVD set from Marshall Publishing Inc., in exchange for a thorough and honest review. Though I am compensated with free products, I am not compensated in the form of cash for my reviews. The opinions I have given are mine and may differ from others but are not influenced by the company or the free product provided.