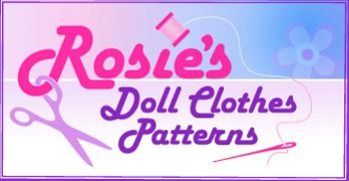 Do you have little girls that love to play with dolls? I do! My three little ones drool over the popular doll magazine that comes in the mail filled with all the things a baby doll could possibly imagine. However, some of those items are quite expensive even though they are oh so cute!
Have you ever wanted to sew your own doll clothes but you did not know where to start? Over the last few weeks several we were blessed to be able to learn how to sew doll clothes right in the comfort of our own home with the help of Rosie's Doll Clothes Patterns.  
Rose's Doll Clothes Patterns Online Video Course is geared towards children ages 8 and up and retails for  $47.23 USD. Not only does this subscription give you 12 month access to over 130 step by step video tutorials, you also get 8 free downloadable doll clothes patterns that include: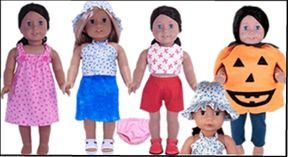 Halloween Pumpkin pattern
Sports Shorts pattern
Crop Top pattern
Frill Hat pattern
Summer Nightie pattern
Underpants pattern
Halter Top pattern
Sarong pattern
Rosie's product is a complete six-week step-by-step video course on how to sew clothes for your very own 18 inch doll. If you prefer to have Cabbage Patch Doll sized clothes there is an option for that too. Each week you will learn new sewing terms all the while learning new tips on how to make cute clothing to add to your doll's wardrobe.
 
The videos are live-streamed directly on the website so once you purchase there is nothing else to download. The videos are nice and short too to keep those attention spans of the younger crowd.
The videos cover the following topics:
~ setting up your sewing room
~ tools that make sewing easier and how to use them
~ how to print out the available patterns, cut them out, and sew with them
~how to use both a straight and zigzag stitch
~understanding fabric and elastic
~sewing hems and seams
~ making straps
~ working with buttons  and more!
From how to choose fabric to how to sew a straight line you will have one on one tutoring from Rosie as she shares her secrets to sewing doll clothes in an easy way!
For this review I enlisted the help of Mikayla (10), Montana (7). Montana LOVEs it! After getting a refresher course earlier this year in sewing I was really excited to get started with Montana on this. She loves her dolls and her imagination is wild about what she wants for their wardrobes.
At the time of writing this review we have misplaced the blue flowered crop top that we made. Note to self, take pictures
after the finished product :) We were able to make a cute pair of shorts and Mikayla figured out how to modify the pattern and  make a skirt (***Please note the shirt is not one that we made ourselves). Although it is a little too short, the concept is great and I am glad she attempted it. This review has sparked Montana's interested in searching for other patterns and thinking of what she can make for her baby dolls. Next up for her is a hospital gown, she has already drawn her pattern, we just need to get to the local fabric store for the material.
Overall, I am completely pleased with this product and I think it is an amazing springboard for your little girls imagination. Once you have the basics down the possibilities are endless of what you can create. I definitely think you should check out what Rosie has to offer. It would make the perfect birthday or Christmas gift for any doll loving fan. Also be sure to check out what my Crewmates thought of this product by clicking the banner below.

Company ~ Rosie's Doll Clothes Patterns
Product ~
Learn How to Make Doll Clothes Video Course with 8 Free Doll Clothes Patterns
Price ~ $47.23 USD
Ages ~ 8 and up